SleepTight Snoring Mouthpiece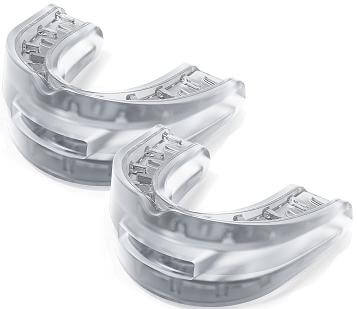 SPECIAL OFFER
2 for $87.90
(Regular $79.90 each)



BUY NOW
PRODUCT DETAILS
SleepTight is a snoring mouthpiece that was designed by 30-year dentistry veteran, Michael D. Williams. It holds the jaw forward while you sleep, tightening the airway and preventing the vibration of tissue which is the primary source of snoring. Mouthpieces such as the SleepTight have been clinically proven to stop snoring during the first night of use.
Benefits
– Stops snoring instantly. Guaranteed.
– Restores relationships damaged by a snoring partner.
– Significantly increases daytime energy levels.
Features
– The dual laminate design ensures a tight custom fit in less than 5 minutes.
– Extra large air hole allows for unrestricted breathing throughout the night.
– FDA cleared & BPA free.
– Lasts up to 24 months.
– Offered with a 30-day trial.
OFFER DETAIL
Sleeptight normally sells a single mouthpiece for $79.90. The president of Sleeptight has extended a generous offer to SnoringMouthpieceGuide.com readers which includes two mouthpieces for $87.90. Simply pay $9.95 today to cover shipping and processing. After trying the SleepTight for 30 days, you will be billed for the remaining balance of $77.95.  Offer is available on this page only.