For over a decade, smartphone apps have changed the way that we go about our daily lives. There is a smartphone app for nearly everything from fitness to communication, travel, and thousands of tools that are designed to make life much easier.
Pop quiz – Name an activity that occurs every night and involves over 90 million Americans? Here's a hint: it's an activity that many do not even realize they are doing.  If you guessed snoring, you would be correct. The issue with snoring is that the only way that one can determine if they snore and the intensity in which they snore is to rely on their partner or roommate's feedback. The other option is to place a sound recorder next to your bed and spend hours listening to the playback. But wait, there is an app for that. Actually, there are several.
How Does A Phone App Help to Stop Snoring?
You may be wondering exactly how an app is going to help with a snoring problem. Such apps are generally used to monitor the frequency and intensity of snoring. They help to establish a baseline in which can be used to determine the effectiveness when corrective action is taken.
For instance, after using an app for several days you may discover that your snoring intensity is high (let's say an 8 out of 10). Knowing this, you decide to give positional therapy a try and monitor your snoring for the next few nights. The app indicates that your snoring intensity is now rated at 5 out of 10, which is a significant improvement. From there, you can try to further reduce your snoring by experimenting with a number of different methods.
Phone Apps That Help Monitor Snoring
SnoreLab
SnoreLab by Reviva Softworks Ltd. is one of the more popular sound recording apps that provides insight into one's snoring habits. Their claim is that they are the number one snoring app and have over 1 million nightly users.
This app tracks snoring overtime and allows one to see just how intense their snoring is. It generates a spectrogram which gives a visual display of snoring loudness over a specified period of time.
The app assigns what's called "snore score" which helps to quantify the amount of time spent snoring. It tracks the amount of time that is spent sleeping as well as time spent snoring. The amount of time spent snoring is expressed as a percentage of the total time tracked. The user also has the ability to indicate which type of remedy is being used on a particular night such as a positional therapy or the use of a snoring mouthpiece.  It also allows the user input factors that affect snoring such as alcohol use or blocked nasal passages.
All information collected is stored and analyzed to help paint a picture one's snoring problem.
The app itself is free, however, there are certain features that are only accessible to paid users. The cost may add up to $2.99-$6.99 per item.
Reviews
Google Play shows that SnoreLab currently has over 6,300 reviews. Of these reviews, 84% are either 4 or 5 star.
Most of the positive reviews mention that the app helps them to realize that their snoring was more than just snoring but rather what was later diagnosed with Obstructive Sleep Apnea. Others describe their experience with the app as "eye-opening".
As for the negative feedback, the majority of dissatisfied users cited the fact that the unpaid version only allows you to record every other night. Other complaints include that the app will record the sound of your snoring but requires you to upgrade to the premium version in order to review the recording.
The Verdict 
Overall, the SnoreLab seems to be an app worthy of trying. If you have a good experience with the free trial, it seems reasonable that one may update to the "premium" version.
Snore Clock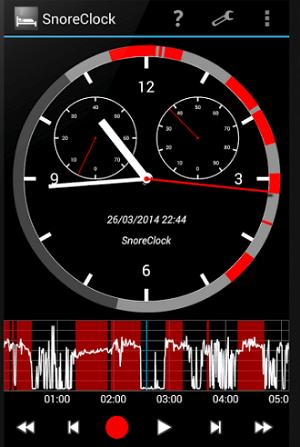 Snore Clock by Ralph Schiffhauer is another popular snoring app that was awarded app of the month by MIT technology. The features of this product are similar to that of SnoreLab, although Snore Clock does not assign a snore score.
The app will indicate whether or not your or your partner snores, as well as if you talk in your sleep. It also has a feature that will let you know if your sleep is disrupted.
The Snore Clock records up to 11 hours throughout the night and runs quietly in the background of your smartphone.
Visual depictions of snoring are displayed on the screen and recorded sound can be reviewed as well as shared.
While the app is free, an upgraded version of the app can be purchased for $3.99 which offers ad-free use, ability to store sound to an SD card and the ability to set sound or a vibration to be played when snoring is detected.
Reviews
There are currently over 500k installs and over 3400 reviews of this app. 68% of reviews are either four or five star.
While many people praised this app and found it to be useful in identifying snoring, others complain of recordings that stop and it being too ad heavy.
The Verdict
While this app does seem to have its problems, it's worth giving a try as the developer has made note that the bugs have been worked out. As for purchasing the premium version, this may be of value if you would like to completely avoid ads.
Do I Snore or Grind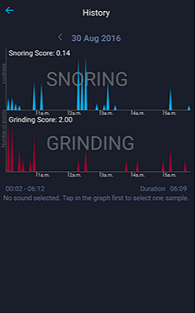 Do I Snore or Grind (yes, that's the name of the app) by Sleep.ai.B.V. combines the ability to detect both teeth grinding and snoring. This app allows you to choose your desired mode – snoring, grinding or both. When activated, it listens throughout the night and uses an algorithm to determine whether the sounds coming from your bedroom are snoring or teeth grinding while filtering all other sound.
Like the other apps, it enables you to specify when a corrective action is taken. This allows you review the data and determine the effect of your action.
The app has a feature that will sound an alarm or vibrate when teeth grinding or snoring is detected.
The developer notes that the app works best with devices that were released after January 2014.
Reviews
There are currently just over 1,100 reviews of this app with over 50k installs.  Of the 1,100, ninety percent of users rated the app at either 4 or 5 star.
Overall, there's an overwhelming number of users who have a favorable opinion of this app, citing that it works well and has helped them to identify their snoring and make changes to correct it.
There seem to be a few complaints involving bugs that cause the app to crash. It's possible that these issues may have been resolved by now.
The Verdict
With 90% of users reporting a positive experience, this is one app worth checking out. While it's the least popular of the three mentioned, it does have the highest percentage of 4 and 5 star reviews.
Using a Snoring App to Determine Effectiveness of a Snoring Mouthpiece
While there are a number of different reasons why someone may use a snoring app, determining the effectiveness of a snoring mouthpiece is perhaps one of the most popular. If you are not familiar with the benefits of a mouthpiece, you can find an abundance of information here. Simply stated, a snoring mouthpiece is placed inside of the mouth prior to falling to sleep. It is designed to hold the jaw and or tongue forward which helps to clear the airway and prevent snoring. Years of clinical research has proven such products to be effective in treating snoring.
Why would you want to determine the effectiveness of a snoring mouthpiece using an app?
Many mouthpiece manufacturers offer their product on a trial basis which allows you to test their product. An app allows you to quantify the results without having to rely on your spouse to make this determination. If the app shows no improvement in snoring, you can always return it and receive a refund.
Share This Post: