☆☆☆☆☆ 4.5 Star Rating
Anyone who has ever owned a snoring mouthpiece for even a short period of time will tell you that they can get a bit funky after wearing a few nights.
A while back we discussed cleaning specific mouthpieces using a store purchased products such as toothpaste, mouthwash, dish soap, and effervescent tablets. When it comes to cleaning, most mouth guard manufacturers offer their own guidelines which typically include these cleaning agents.
Cleaning is however only half of the battle. Using some of the above-mentioned products will often remove physical debris, leaving behind odor-causing bacteria, fungus, and viruses. These little critters are invisible to the naked eye but are still present, even after a thorough scrubbing. Since conditions inside of the mouth provide a perfect breeding ground for such critters, any colonies that were washed away during "cleaning" will quickly repopulate and within a day or two the rancid smell returns.
Until recently, I haven't been able to find a cleaning and sterilizing product for snoring mouthpieces. The best product that I could find was effervescent tablets which kill just that bacteria and often discolor the plastic of some oral appliances.
After using Polident tablets for several years, I came across a new product called "Z CLEAN" which claims to clean and kill 99.9% of virus, fungus, and bacteria. The directions say that it can be used to "sterilize your snoring and sleep apnea devices".  Okay, so an all-in-one product that cleans and completely sterilizes and made specifically for mouthpieces? Tell me more!
About Z Clean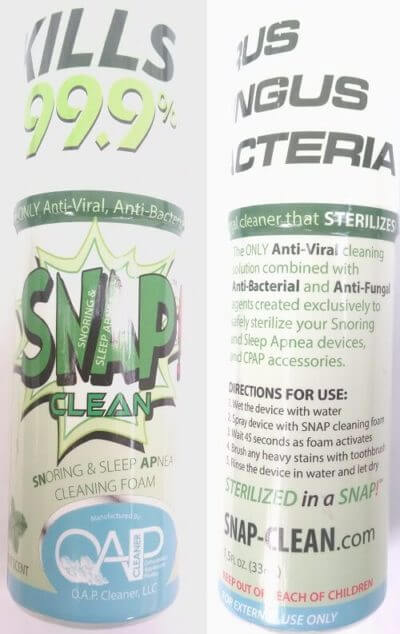 Z- Clean is a product that has been developed by the oral appliance manufacturer Zyppah who has teamed up with an Orthodontic Appliance Plastics, (O.A.P.) a Hewlett, NY company that specializes in cleaning and disinfecting products for everything from aligners to dentures and mouthguards.
According to the product label, Z CLEAN is made in the USA and has been cleared by the FDA. When shopping for any such product, it's extremely important to ensure that the product has been examined and cleared by the US Food and Drug Administration (or equivalent safety regulation agency in your country). Otherwise, you will never know if the product is safe to use for its intended purpose.
If you were to take a look at the advertisement on their website, the exact type of product that they are selling isn't quite clear. Is it a large roll of effervescent tablets? Perhaps a canister of cleaning powder? As it turns out, it's actually a 1.5oz bottle filled with a mint-scented gel-like foaming cleaner. The advertisement states that one bottle should last for thirty days.
The product packaging offers the following directions for use:
Wet the device with water
Spray device with Z Clean foam
Wait 45 seconds as foam activates
Brush any heavy stains with toothbrush
Rinse the device with water and let dry
Overall, the cleaning process seems easy and straightforward.
How much does it cost?

Zyppah is currently selling one bottle for $19.95 plus $9.95 shipping and handling, bringing the overall cost to $30. However, if you are purchasing this as an add-on item while buying the Zyppah, shipping is combined and there are no additional shipping and handling charges.
$20 for a bottle of cleaner and disinfectant? Sounds a bit expensive but does it actually work and how long does it last?  I was interested so I grabbed a bottle and put it to the test.
Product Review
Putting Z Clean to the test
Being one who owns several snoring mouthpieces, I was curious to find out how well the Z cleaner worked. Up until this point I have always used effervescent tablets or a mild dish detergent such as Dawn to clean my oral appliances. While effervescent tablets seem to get the job done, I have always been left wondering what kind of bacteria, fungus, and virus are left behind in the cracks and crevices. Even after cleaning using the effervescent tablets, my mouthpieces still seems to have a slight odor once cleaned and dried, signaling the presence of bacterial growth.
So it was out with the old and in with the new. According to the product label, Z Clean can be used with all snoring and sleep apnea devices as well as CPAP accessories. I, however, decided to start by testing it on the Zyppah simply because this product was made specifically for this device. I later tested it on the Good Morning Snore as well as the SleepTight. All three products are distinctively different.
Upon arising in the morning I rinsed off my Zyppah, gave it a pump of Z Clean and used my finger to distribute the solution. Forty-five seconds later I used a fresh toothbrush to give it a good scrub followed by a rinse. I then allowed it to air dry until later in the evening.
As bedtime approached I grabbed the Zyppah and gave it the sniff test. Surprisingly, it still had a minty fresh smell!
In the morning there were no noticeable odors on the mouthguard so I cleaned and stored it. Once again, it remained fresh smelling after spending several hours drying.
For the next few nights, I tried Z Clean with both the GMSS as well as the SleepTight with identical results.
Because I'm not a scientist and do not own a microscope, I can not attest that this product killed 99.9% of virus, fungus, and bacteria. What I can confirm is that it keeps oral appliances smelling fresh which is an issue that I have always dealt with, until now.
How long will it last?
Right about now you are probably wondering how long will a bottle last? If it lasts for several weeks then it could still be a great value.
While putting the Z Clean Clean to the test, I found that just one pump provided just enough foam to cover the surface of a mouthpiece and clean it. Since most of us will clean our mouthpiece once per day, typically in the morning, it's safe to assume that 1 pump equals 1 day. Now, how many pumps are in this 1.5 oz bottle?
With a brand new bottle in hand, I was determined to found out the answer to this question so I pumped the bottle until empty while counting. As it turns out, one bottle produced about 75 pumps or 75 days of use.  Does this mean that it will only last for 75 number of days? Not necessarily.
Because it's not completely necessary to sanitize daily, you can use a less expensive alternative such as Polident for most days of the week and use Z Clean every other day for a deep cleaning and to completely sanitize. If used only three times a week with one pump per cleaning, a bottle should last for up to six months. This will reduce the monthly cost while keeping your oral appliance fresh.
Recommendation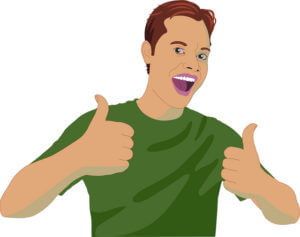 Z Clean is an effective cleaner and sterilizer that solves the issue of smelly mouthpieces. While it's a bit on the expensive side, a little bit really goes a long way. If used sparingly, a bottle will last for several weeks. In my opinion, $20 is a small price to pay for a product that cleans and sterilizes, leaving only a fresh mint scent behind. The Z Clean is by far the best oral appliance cleaning solution currently available on the market.
Here are a few pros and cons to consider:
Pros
Only product that kills 99% of bacteria, fungus, and viruses while cleaning
No soaking overnight cleans and sterilizes in about a minute
Mild ph and gentle cleaning agent prevents discoloration
Safe to use on any mouthpiece
Can be used for other purposes such as CPAP accessories
Cons
A bit pricey but can last up to 6 months
Share This Post: