☆☆☆☆☆ 3.75 Star Rating
Background Information on the Silent Partner by QuietLife Technologies
What is the Silent Partner & Who's Behind It?
The Silent Partner is a product that is aimed at helping bed partners who are searching for peace and quiet in the bedroom. While nearly all anti-snoring products focus on silencing the sound of snoring at the source, the Silent Partner takes a different approach by using active noise cancellation technology (ANC) to greatly reduce the decibel level created by the snorer, resulting in a noise level that does not disturb their partner.  It works by creating a "silent zone" around the snorer which is effective in as little as 8″ away. Instead of tackling snoring itself, it allows snoring to happen and resolves the issue of sound.  The company claims to be the first SmartMask to quiet snoring noise.
The Silent Partner SmartMask has been featured on Forbes, BBC, Fast Company, Reuters, Discovery, Yahoo, Cnet, Digital Trends, as well as several other media publications.
QuietLife Technologies is a start-up company that formed in 2015 and is based out of Jerusalem, Israel. Their website lists Yoni Bazak as the CTO & Co-Founder and Netanel Eyal as the CEO & Co-Founder. One has a B.S. in Computer Science and the other a B.S. in Computer Engineering.  Their team consists of 8 other people including two technical leads, CMO, office manager, marketer, HR, engineer and one intern.
How Does It Work?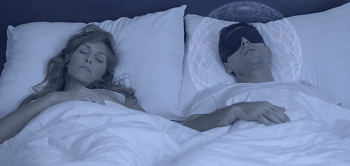 While on the surface the Silent Partner may appear to be a simple blindfold, but it's what is inside that makes this product unique. This mask contains 2 microphone sensors, 2 speakers and a microcontroller, all powered by two 1.4v coin cell batteries. It also features a micro-USB charging port which means users will not have to change out any batteries.
It's used by placing the mask over the eyes and then switching it on. The microprocessor contained within the mask receives signals from the sensors that sound is being generated. An algorithm then determines whether or not the sound is snoring related. If snoring is detected, it broadcasts real-time inverted sound waves through the speakers to a level that neutralizes or cancels out the sound of snoring. This is possible thanks to a phenomenon called Destructive Interference. You can think of this as a positive force canceling out a negative force. While this does not completely eliminate the sound of snoring, it brings the decibel level down to an acceptable range that does not disturb the snorer's bed partner. According to their website, it's capable of reducing noise up to 17 decibels.
To put into perspective, the speech of an average person is approximately 60dB while snoring is somewhere around 70Bb. By lowering snoring 17dB to 53dB, loud snoring sound levels drop to the equivalent of soft office noise or gentle rainfall. While not completely inaudible, the sound will be gentle enough to allow the snorer's partner to fall asleep.
The Use of Active Noise Cancellation has been around for over 80 years, but Quite Life has taken this old technology and put it to use to solve a problem that affects at least 36% of adults.
The Indiegogo Campaign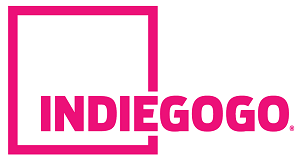 In order to raise money, many start-ups turn to Crowdfunding. With Crowdfunding, a company typically pitches their idea to an audience via crowdfunding websites such as Indiegogo, ArtistShare, Kickstarter, or Microventures to name a few. Multiple "Backers" ie. Investors contribute a small amount of money to the company to cover expenses related to the development and launch of a product.
A campaign for the Silent Partner was launched in early November 2015 on Indiegogo and continued until January of 2016. On Indiegogo alone, the company was able to raise a whopping $1.6 million dollars through nearly 18,000 backers which brings the average contribution per backer to less than $100. They are also raising an unknown amount of money through their website by selling pre-orders.
Judging by the fact that the campaign ended with 565% funded and the sheer number of contributors, it's easy to see that this is an in-demand product that has gained quite a bit of interest.
At first, it appeared as if their product was originally a "patch" that was placed over the nose. Due to backer feedback, it seems as if they have shifted direction and are incorporating this technology into a light blocking mask. Same technology, different approach to mounting it to the face.
The latest update from the company indicates that they are still trying to work out a few bugs in their system prior to pre-production and ultimately production. Their campaign is currently showing an anticipated delivery date of October 2017.
Is the Silent Partner Indiegogo Campaign a Scam?
Take a look at the comments section of the Silent Partner Indiegogo campaign and you will quickly see several frustrated backers who are accusing the company of running a "scam".
After the latest update in July, many are even asking for a refund of their contribution.
There seems to be a lot of pushback coming from some backers, but is this product really a scam?
If you have viewed more than one crowdfunding campaign, you will find that this type of response is typical when a company fails to deliver their product by the anticipated delivery date. In fact, having setbacks is very common as product development usually ends up taking more time than anticipated. In the end, the majority of companies end up delivering their product as promised.
To answer the question, it's very unlikely that this company is scamming their backers. Delayed delivery is a common occurrence with these crowdfunding campaigns and investors should know going in that patience is a must.
How Much Does the Silent Partner Cost?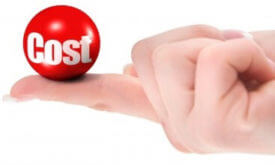 According to the QuietLife website, the SilentPartner is currently on Pre-Order for $77.00. They are advertising retail price at $99.00.  In addition to the mask, they also sell a charging stand and travel bag. All three can be purchased as a complete packaged for the pre-order price of $82.00 (regularly $205.00). All items are shipped worldwide for free, which is an excellent selling point.
As of the date of this writing, it appears as if their checkout page is down and is showing a 404 error, so placing an order is not possible at the moment.
Because there is nothing like it currently on the market, it's difficult to analyze the value of the Silent Partner. If it functions as it claims, I would say that it's worth the $77 or even $99 price tag.
Product Criticism
While the idea of muting your partners snoring using a sound canceling device may sound like a great idea, there is some criticism that goes along with selling such a product. Critics of such noise canceling devices used for snoring suggest that a better approach may be to stop the snoring at its source rather than covering it up. The reason for criticism is that snoring can sometimes be an indication of a more serious condition called Obstructive Sleep Apnea (OSA). With OSA, a person momentarily stops breathing while asleep. Unfortunately, there is no way to tell if snoring is related to OSA unless you are to visit your doctor who can assess your situation.
That being said, this product does not treat sleep apnea nor does it claim that it does. If you suspect that your snoring is tied to sleep apnea, it's important that you seek help from a qualified medical professional.
Product Review of the Silent Partner
As with all anti-snoring products that I review, I test them against my loudest snoring for up to two weeks. Unfortunately, at this time the Silent Partner is still in the developmental stages. Once it's released, hopefully by October 2017, we will work to get a hold of a product sample to review.
In the meantime, if you are looking for a snoring solution that works, consider a snoring mouthpiece. Many of these devices are clinically proven to be effective and have been used by dentists worldwide to help patients with snoring problems. Here's a fairly comprehensive list along with reviews of all mouthpieces that are available.
Share This Post: