☆☆☆☆☆ 4.5 Star Rating
The Purple Pillow
Purple Innovations LLC, is a Utah based company that manufactures and sells products under the trade name "Purple". Their product line is comprised of a pillow, seat cushion, mattress protector, sheets, and even a bed. Purple also manufactures and sells a standard bed base as well as an adjustable one.
Incredibly, the purple pillow weighs over 10 lbs and measures 24″ X 16″ X 3″. It's advertised as the "The worlds first no-pressure bed for your head".  Due to its design, the pillow stays cool because it's breathable. The company claims that it's a suitable choice for any sleeping position including side, back, or stomach.
What makes this pillow so special is the Hyper-elastic Polymer material which is arranged in what they refer to as a "Smart Comfort Grid", a fancy name for their triangular honeycomb design.  The pillow contains a firm edge to provide support while being soft at the center to provide comfort.
The hyper-elastic polymer is coated with a polyethylene copolymer powder coating, which is non-toxic. The pillow cover is made from a blend of spandex, polyester, and Bamboo.
Purple pillow gently supports the head, allowing the neck and head to align properly with your spine.
This pillow promises to put an end to common issues associated with other pillows such as memory foam, polyester, and down feathers.
It's worth noting that this pillow comes with a "booster"  which can be used to increase the pillow height. The Pillow itself arrives 3″ thick, which means that you will have to inflate this air bladder and insert inside of the cover, under the purple pillow to increase the height, if you desire. 
UPDATE: It seems as if Purple decided to discontinue the booster. Some suggest that there were too many deflation issues with the booster, which may be the reason why it's no longer included.
Who's Behind The Purple Pillow? 
The company was founded by brothers, Terry and Tony Pearce. Terry has a background in manufacturing and design while his brother Tony has a background in aerospace materials.
In the early 1990's the duo created a product called Floam, a cushioning material that was originally designed to assist wheelchair users with pressure sores. The product was a success and it was eventually used by manufacturers such as Nike, Johnson & Johnson, Top0-Flite, and Hill-Rom.
The brothers didn't stop there. They wanted to develop an effective cushion product at an affordable price. They eventually invented a stretchable material called Hyper-Elastic Polymer which is stretchable, durable and will return to its original shape after pressure is removed. This material was molded into a triangle honeycomb type shape and was eventually licensed to a number of other companies including Jansport, Dr. Scholl's, Styker Medical, and others.
It wasn't until 2013 that the brothers used this Hyper-elastic polymer material to create a bed. Creating a sheet of material large enough to span the width of a bed was a challenging task because at the time no machinery had existed to do so, but the Pearce's were up for the challenge.  Two years and millions of dollars later, they had created a machine that could do so.
In 2015 they pitched the idea on Kickstarter and raised $171,000 within 45 days. This campaign introduced the Purple bed, mattress topper, and seat cushion.
The following year, they launched another Kickstarter Campaign for their Purple Pillow. This time they were able to raise an incredible $2.6 million.
While their bed and pillow are their two most popular products today, this review is going to focus on the pillow exclusively.
What Are Others Saying About The Purple Pillow?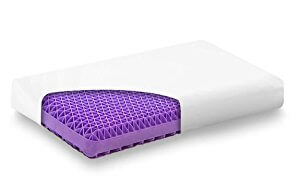 Being such a popular pillow, it's not difficult to find hundreds of reviews scattered across the internet. Before purchasing, I took a look at what was being said and found the reviews to be somewhat divided between those who love their Purple pillow and those who were not satisfied with their purchase.
For those who were not satisfied, the number one complaint had to do with the air booster which at one time came with the pillow. According to several reviewers, the booster seems to lose air after using it for only a few nights. Several who have used the booster complained of having to inflate it repeatedly throughout the week.
Many have contacted Purple customer support who gladly sent them a replacement free of charge. Others claim that their customer service representative suggested stuffing a pillow or towel inside in order to increase the pillow height. In general, this advice was not very well received by the reviewer.
In addition to the booster issue, there were a few complaints about the white powder inside of the pillow. After doing a little research, it seems as if the white powder is used during the manufacturing process and is not cleaned off prior to being sold.
It's said that it's a non-toxic polyethylene powder which doesn't seem to escape the pillow enclosure that the polymer is encased in.
Aside from these two complaints, the majority of reviews seemed to be positive in nature.  Most who have purchased this pillow seem to agree that it provides great support and a restful night's sleep. Several reviewers said that they prefer the feel and support of the Purple Pillow over any memory foam pillow that they have tried in the past. Some claim that they no longer wake up with a sore or stiff neck as they had experienced before.
Money Back Guarantee 
One very desirable feature of this pillow is the fact that it comes with a 100 night 100% money back guarantee.
Other pillows on the market offer a similar guarantee with one catch – you are required to pay return shipping which means that in the event that you are not satisfied with your purchase, you will have to send the product back at your expense. Return shipping on a pillow this size and weight can cost up to $20. The cost of return shipping often deters buyers from returning the product.
The Purple guarantee allows you to return the pillow free of charge and receive all of your money back within 100 days of purchase. If you are not satisfied, you literally have no money to lose.  I have yet to see a pillow company that offers such a generous guarantee.
How Much Does The Purple Pillow Cost?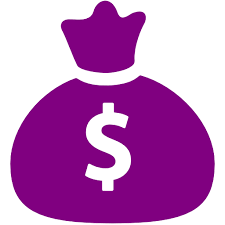 The cost of the Purple Pillow is fairly consistent regardless of where you purchase it.
It can be purchased directly from the company or Amazon for $99 with free shipping. While the Amazon 2 day Prime Shipping is a nice feature, there is one thing to consider before purchasing through Amazon.
Purple advertises a 100-day money-back guarantee. Amazon will allow you to return your purchase for up to 30 days. Buying directly from the manufacturer allows you an additional 70 days to return your purchase if you are not satisfied, which is a good reason to order directly from the manufacturer.
My Experience Testing The Purple Pillow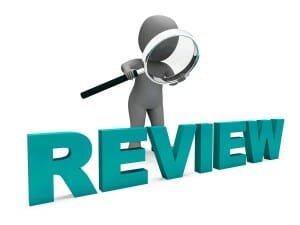 While I typically review snoring mouthpieces, the Purple Pillow captured my interested, so I had to give it a try. I'm always up for a good night's rest and anything that helps is always a welcomed addition to my home.
After taking a look around, I was not able to locate the pillow locally, so I had to order it online.
When the package arrived at my doorstep, I was somewhat surprised that the box weighed almost as much as a bowling ball!  I opened up the package and found the Purple Pillow inside.
Before putting it to use, I took a close look at it and was satisfied with the quality of the product that I had received. The pillow liner was soft to the touch and seemed well made with a U-shaped zipper that allowed me to access the interior.
Inside, I found the Smart Comfort Grid which was jelly-like and sort of fun to play with. It did have a somewhat firmer outer ring while the rest of the pillow was soft. There was a white powder inside which was not a concern of mine. For those who are concerned about the powder, I would suggest rinsing it off and allowing to air dry prior to use.
I zipped the pillow back up and tossed it inside of a pillowcase before laying my head down.
I noticed at first that my head did not raise up as high as I would like, so I added a couple folded towels inside the pillow at the bottom in order to achieve the desired height. After a few adjustments, the pillow was just right. It supported my head nicely and felt great!
Bedtime was still a few hours away, so I placed the pillow at the head of my bed and awaited my retirement for the evening.
Over the next 3 nights, I tested out the Purple Pillow and found that it provided just the right amount of support and remained cool and comfortable as advertised. I was able to sleep on both my back and side comfortably and with no issues.
The only complaint that I have with this pillow is the fact that you must prop it up in order to make it higher. It would be nice if they manufactured it an inch or two higher so that you don't have to add anything to increase the height. Otherwise, I give this pillow an excellent rating.
Purple pillow offers a unique design that is like no other and provides an alternative to memory foam or feathers. If you would like a cool, comfortable pillow that doesn't collapse and will not need to be replaced every few months, I would recommend this product. If you are unsure, you can always give it a try and request a full refund if it doesn't work out.

Pros:
Unique patented design is like no other
Made in The USA
Does not go flat like a traditional pillow
Provides excellent support
100-day full money back guarantee
Eliminates the need for fluffing
Priced similar to other luxury pillows
Cons:
Additional support may be necessary to achieve the desired height
Share This Post: