I receive free products and participate in affiliate programs where I may receive a commission, at no cost to you, if you visit a merchant's site and make a purchase using links from within this page. 
Morphiis Mattress (Perfect Pressure) Review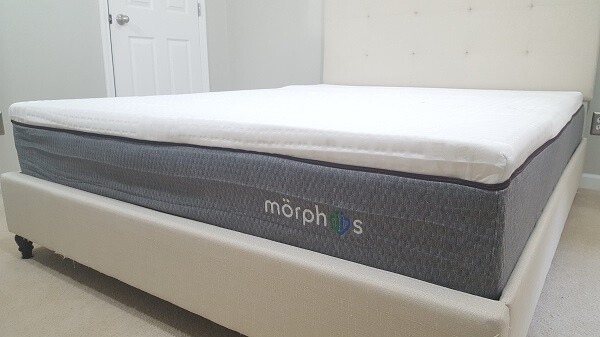 Some people enjoy sleeping on a firmer mattress while others like their mattress a bit on the softer side. If you share your bed with a partner, there's a good chance that the two of you have different preferences when it comes to mattress firmness.
The issue is, nearly all mattresses come with the same comfort level on both sides. If you like a firm mattress while she prefers a medium soft mattress, you are faced with the decision of choosing one mattress over the other or compromising by choosing a mattress with a comfort level that's somewhere in the middle.
Either way, one or both partners may end up sleeping on a mattress that they are not comfortable with for the next 10 or more years.
To further complicate matters, many foam mattress retailers these days are using a one-size-fits-most approach, offering their mattress in one "universal" firmness level which is typically in the medium range.
In order for all to be happy, both partners must enjoy the same firmness level and it must be the universal firmness level chosen by the manufacturer that you decide to go with. It's easy to see how this can be problematic.
Morphiis has come up with a solution to this problem. They offer a mattress that allows you to customize each side to create a personalized sleep experience for both you and your partner to enjoy.
The concept of a customizable mattress seems very interesting so I was more excited than ever to give the Morphiis a try.
Throughout this review, I'm going to share my experience with Morphiis and walk you through what it's like to own one. By the end, you will know if this mattress is something that might be a good fit for you and your partner.
Alright, let's get started!
Arrival, Unpacking, Assembly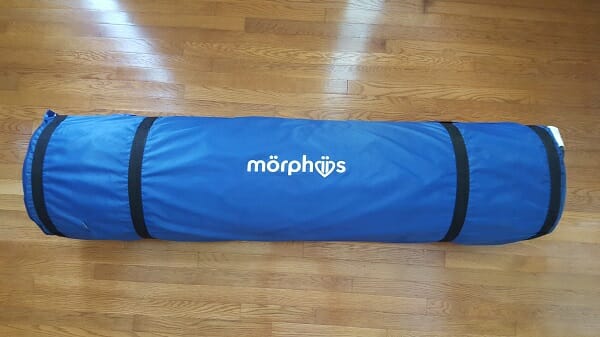 Unlike most press and roll mattresses that come in a box, my queen size Morphiis arrived in a cylindrical bag, measuring 58″ long X 17″ in diameter and weighing approximately 79 lbs.
The mattress was shipped via UPS ground service and took 5 days to arrive from East Petersburg, PA.
At nearly 5′ in length, the bag was rather tall and heavy which meant that it required the help of my wife to carry it upstairs into the bedroom.
Once there, I removed the blue bag that covered the mattress and laid it out on the bed.
The package came with some instructions as well as a letter opener which is used to slice through the plastic that holds the mattress together.
Using the opener, I cut through the plastic and the bed sprung open.
The "medium" inserts were packaged inside the bed while the "soft" and "firm" inserts were packaged outside of the mattress.
Two insert storage bags were also included inside the package.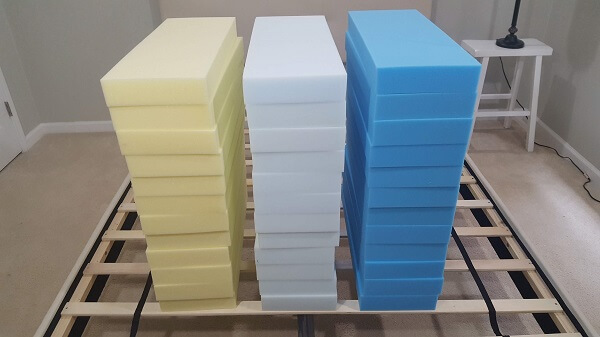 After unpacking everything, I let the mattress and foam sit overnight to ensure that it was fully expanded. Morphiis suggests giving the mattress up to 24 hours to fully expand.
After doing some reading, I determined that the medium arrangement sounded like it would be the best fit for myself. My wife decided that the soft may suit her needs better.
I arranged the mattress with all soft (yellow) on her side and all medium (blue) on my side.
I then zipped up the cover and we slept on the mattress for the next 3 nights.
While we were both satisfied with the feel of the mattress, we decided to rearrange a few areas to find the optimal arrangement.
I decided to swap out the midsection area for the firm (white) inserts while my wife swapped out the same area, also using the firm inserts.
Laying down on the bed, be both could feel an immediate difference in support. At this point, we agreed that this arrangement was perfect for each of us and kept it in this arrangement.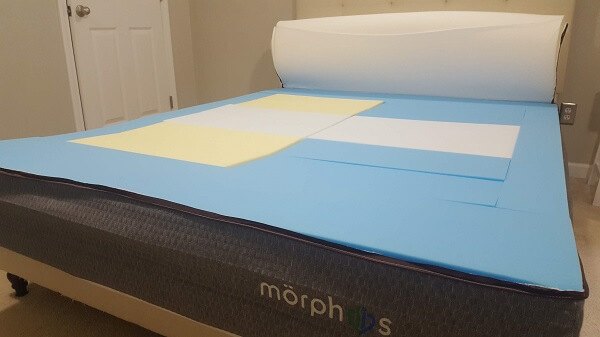 The Smell Test
Foam mattresses have a tendency to give off an odor when they are unwrapped and begin to air out. This odor is caused by what's known as off-gassing where Volatile Organic Compounds (VOCs) are released into the air.
Nearly all new products off-gas to some degree. Off-gassing becomes an issue when the smell is overpowering and lasts for a long period of time.
Morphiis is CertiPUR-US certified, which means that off-gassing shouldn't be much of an issue. As a part of the CertiPUR testing process, VOC emissions are checked to ensure that levels are less than 0.5 PPM.
After unpacking a mattress, I always give it the smell test where I put my face into the mattress and give it a whiff.
When unpacking the Morphiis, I did notice some "new foam" smell although this odor eventually disappeared after a few days.
Heat Dissipation Test
Choosing a mattress that sleeps cool is a good idea if you have a tendency to sweat at night.
Due to the nature of foam, some mattresses have a tendency to trap heat which can make sleeping on them quite uncomfortable. This is especially true when it comes to foams that were made many years ago.
The foam used in most mattresses today tend to breathe better due to advancements in foam manufacturing.
Morphiis advertises their mattress as having a comfort layer that adapts to your body and enhances airflow. Their outer cover is said to keep you cool and comfortable by promoting airflow throughout the night.
How does the Morphiis measure up to other mattresses? Does it really sleep cool?
When sleeping on this mattress, neither my wife or I experienced any issues overheating. In fact, we felt as though it slept fairly cool.
In order to demonstrate the cooling capabilities of this mattress, I conducted a heat dissipation test which shows how well this mattress dissipates body heat.
To simulate a person sleeping on the bed, I heated up a large rice bag in the microwave for two minutes and then placed it on top of the mattress.
After allowing it to sit and transfer heat for 10 minutes, I removed the bag and used an infrared thermometer to measure the surface temperature of the mattress.
At the time of removing the rice bag, the mattress temperature was at 119.6°. Within two minutes, the temperature lowered to 90.8°. During this time period, the temperature dropped an incredible 28.8°.
The chart below shows the rate at which the mattress lost heat. As you can see, Morphiis experienced a huge amount of heat loss within the first 20 seconds.
From there, the temperature gradually dropped until the last few seconds where it began to flatten.
| Time (Seconds) | Temperature °F |
| --- | --- |
| 0 | 119.6° |
| 10 | 107.9° |
| 20 | 102.6° |
| 30 | 99.8° |
| 40 | 97.4° |
| 50 | 96.5° |
| 60 | 95.3° |
| 70 | 94.1° |
| 80 | 93.2° |
| 90 | 92° |
| 100 | 91.4° |
| 110 | 91.4° |
| 120 | 90.8° |
Here's the video demonstrating heat dissipation over a two minute period.
Firmness Test
Mattress firmness can be thought of as how stiff a mattress feels whenever you lay on it.
Does it feel hard as a rock or soft as a cloud? Perhaps it has a firmness level somewhere in between. In this case, we would refer to the mattress as being "medium".
While the majority of people are okay with a medium firm mattress, others prefer one that's either softer or firmer. Mattress firmness is a personal preference which will vary from one person to another.
One very distinct advantage of the Morphiis mattress is not only are you able to experiment with different mattress firmness levels, you can also personalize the firmness on your side of the bed.
Most beds don't allow you to adjust the firmness level at all and very few allow adjusting on each side of the bed. Morphiis allows both.
To demonstrate mattress firmness, I filled a 2-gallon bucket with 42 lbs of concrete and placed it on the bed. A ruler and straightedge were used to measure the surface drop of the mattress.
First, I tested the firmness of the medium inserts and found that the mattress had dropped about 2.25″.
I then removed the medium inserts and replaced them with the firm and soft inserts. The soft inserts caused the mattress to drop an additional 1/4″ while the firm brought the weight up 1/4″.
There was a noticeable difference in mattress firmness when comparing the soft to the firm.
Body Support
A mattress can be comfortable yet provide very little support. When this happens, your body will let you know in the morning as you will notice aching and other discomforts.
The key is to find a mattress that has the firmness and support that your body needs in order to fully recover and get a restful nights sleep.
How can you tell if a mattress properly supports your body?
The easiest way is to have a partner or friend take a look at your body while laying on the mattress. If your back bends in the middle, the mattress is not providing enough support.
Your posture should be in line and your body should lay flat when laying down in bed.
I had my wife observe the alignment of my body while laying down on the Morphiis and she noted that I was using good posture. I had observed her laying posture and found that her body also remained aligned while laying in both the back and side position.
Recovery Time
Recovery time refers to how fast the mattress bounces back when you remove pressure from it.
There are many different types of foam out there and they all respond differently to pressure. Depending on the type and density of the foam, recovery may be nearly instant or could take several seconds.
Slow responding foams are generally not a good choice for mattresses because they can leave you feeling trapped as you roll over.
A mattress with a fast recovery time is ideal for active sleepers who change positions multiple times throughout the night.
In the recovery test, I press down on the mattress several times and then quickly remove my hand so that you can see how fast the mattress responds.
As shown in the video below, Morphiis has a very fast recovery time. I had no issues freely moving around this mattress.
Motion Isolation Test
Motion Isolation or motion transfer refers to the ability of a mattress to localize motion. In other words, when your partner moves, does the entire bed move with them?
This is an important consideration if you sleep next to a partner who disrupts your sleep by moving around throughout the night. A night of disturbed sleep will prevent you from getting a proper nights rest and will leave you feeling tired during the day.
Some mattresses are better at isolating motion than others. For instance, a mattress with coils that are wired together will transfer a lot of motion while an all foam mattress transfers very little motion.
Since the Morphiis is an all foam mattress, I expected it to perform well in this test.
To demonstrate motion isolation, I used a water-filled wine glass and a 14 lb weight. I also measured the vibration of the mattress with a vibration meter app.
In this test, I place the vibration meter near that glass and dropped the weight from the opposite side of the bed from a distance of 12″. This test was repeated 3 times.
The results show very little movement in the glass. The meter showed a mean reading of 2.5 MMI and a max of 5.7 MMI, which is fairly low.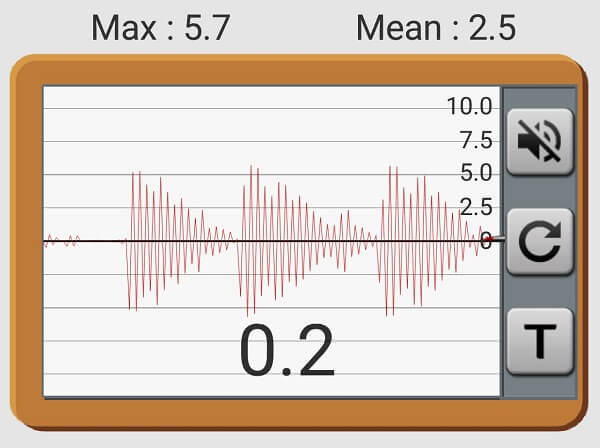 Edge Support
If you are thinking about buying a foam mattress, edge support should be taken into consideration.
A low-density foam near the edge of the bed can cause you to fall off if you get too close.
If you are sharing your bed with a partner, having good edge support is essential as you may need to utilize every square inch of surface area of the mattress.
In order to test the edge support, I start by sitting on the edge. As with most foam mattresses, the edge of the Morphiis did not hold up very well while sitting.
When laying in the mattress, I was able to lay towards the very edge without feeling as if I would be tossed from the bed.
While this mattress may not be best suited for sitting, it works well for the purpose of laying. My wife and I slept comfortably on the bed without issue.
The Company

Morphiis is produced by Perfect Pressure LLC, a company based out of Aventura, Florida. The company is headed by Earl Takefman who spent many years leading numerous public companies from across the US.
The idea of the Morphiis born from a 5 zone mattress that was introduced by the company as the "Perfect Pressure Mattress".
In 2017, using the original concept of a zoned mattress, Takefman designed and created the Morphiis to address the issue of partners who couldn't agree on a firmness level as well as to address the issue of those who found their original mattress to be too hard or soft. The Morphiis was the perfect solution that allowed each person to customize their bed exactly how they wanted it.
Today, it seems as if the Perfect Pressure mattress has been phased out and the Morphiis is now its replacement.
Aside from their mattress, Perfect Pressure LLC also sells a customizable mattress topper as well as a customizable pillow and an adjustable bed frame.
The one thing that all of their products have in common is that they are adjustable and customizable which seems to be their focus.
Mattress Construction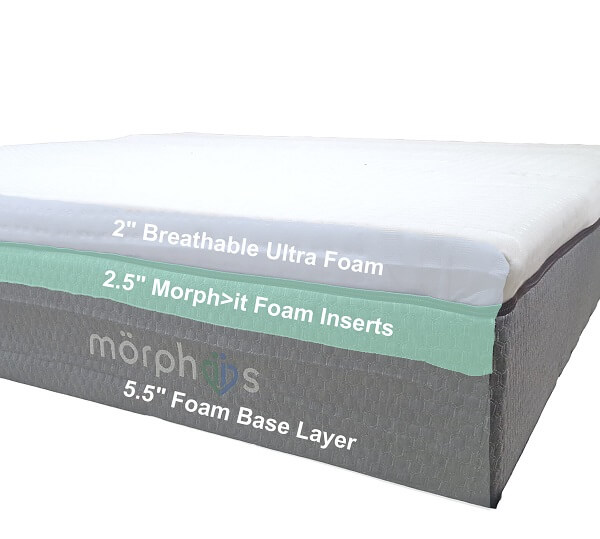 Morphiis comes in six standard sizes ranging from twin to California King and is a total of 10″ thick.
The basic construction of each mattress is the same, regardless of the size that you choose.
Morphiis stresses the fact that their mattresses are made from "ultra" foam instead of memory foam which has a tendency to sleep hot and leave you feeling stuck inside of the mattress. Ultra foam is quick to respond which combats this issue.
The main portion of the Morphiis includes a 5.5″ thick base layer and edge supports that are joined together to form one unit. This portion of the mattress is made from a high-density foam which offers rigidity and support.
The mattress can be laid on top of a box spring, platform, or slatted bed (no more than 3″ between slats). Due to the design of the base, it also works quite well with an adjustable bed frame.
Six slots run along either side of the mattress allow you to add Morph>it comfort inserts in the orientation that you desire. All mattresses have a total of 12 slots with the exception of the twin size which only has six.
Each mattress, with the exception of the twin, comes with 36 foam inserts, 12 soft, 12 medium, and 12 firm. The twin size comes with only 18 – 6 soft, 6 medium, and 6 firm. The comfort inserts measure 25″ x 9″ and are 2.5″ thick.
To top the mattress off, a 2″ slab of ultra foam is laid across the entire surface area and is finished with a breathable outer cover that's made from a blend of 83% polyester and 17% glass fiber.
I was unable to find any information on the density or ILD rating of the foams that are used in this mattress.
CertiPUR-US Certification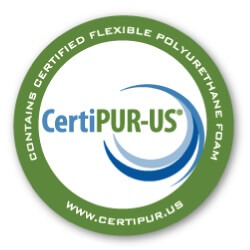 When shopping for a mattress, it's always a good idea to check to see if the foam that's used in the mattress is CertiPUR-US certified. Being certified lessens the chance of receiving a mattress that is potentially dangerous to your health.
CertiPUR-US is a not-for-profit organization that tests foam products and the issues a certification if the foam meets certain standards. Participation in the program is voluntary and there is no cost to the manufacturer. There's really not a good reason why a mattress should not be certified.
In order become certified, the foam must not contain ozone depleters, PBDE, TDCCP or TCEP flame retardants, heavy metals such as lead or mercury, formaldehyde, regulated phthalates, and must have low VOC emissions of less than 0.5 PPM.
CertiPUR requires that all foams are retested each year to ensure that they are still in compliance.
The CertiPUR website contains an A-Z directory of all participating companies. While Morphiis does not appear on the list, the company "Perfect Pressure" does.
64 Firmness Options
Most mattress-in-a-box companies do not give you a choice when it comes to firmness level and those who do may offer only three options.
Each Morphiis mattress comes with enough foam inserts to allow you to configure your mattress in 64 different ways.
While 64 options to choose from may seem overwhelming, they make it easy by offering a few popular configurations suggestions.
They also have a tool on their website that provides recommended configurations based on a few questions that you answer about your height, weight, sleeping position, preferred firmness, etc. After answering these questions, you will be given an illustration that shows exactly how to set your mattress up.
Install the inserts as suggested, sleep on it for a few nights and make adjustments as necessary.
You can fine-tune your mattress by swapping out the inserts. For instance, if you have an injury, have a troubled area that needs more support, or are pregnant, you have the ability to adjust the inserts as you see fit.
Warranty
Nearly every mattress comes with some sort of warranty and Morphiis is no exception.
Their warranty period is 25 years and covers only the original owner which means that it's non-transferrable. Most mattresses come with a 10 years warranty, so one that's 25 years is exceptional.
This warranty covers:
Indentations greater than 1.25″
Physical flaws in the foam
Manufacturer defects in the workmanship
It does not cover:
Normal wear and tear
Mattresses that are used for unintended purposes
Minor Imperfections
Increased softness in mattress not affecting pressure relief qualities
Improperly supported mattresses
Abusive handling, misuse, or neglect
In general, the warranty is similar to nearly every other manufacturer's with the exception of the extended warranty period that's 15 years longer than average.
Pricing
Morphiis is available in six different sizes from twin to California king. The price of each mattress differs according to size. Larger mattresses require more material to manufacture, so the cost is going to be higher.
Expect to pay between $595.00 and $1,195 depending on the size that you choose.
If dropping several hundred dollars on a mattress is not in your budget, Morphiis works with Klarna and Blispay to offer payment plans.
Right now, they are offering 0% financing to qualified buyers who pay off their mattress within 12 months.
If your balance extends beyond this time period, their financing charges are 19.99% APR.
Going the payment route with 0% financing, expect to pay between $49.58 a month and $99.58 a month depending on the mattress size that you choose.
The table below shows the cost associated with each size mattress.
| Size | Price | Financing |
| --- | --- | --- |
| Twin | $595.00 | $49.58/mo. |
| Twin XL | $650.00 | $54.16/mo. |
| Full | $850.00 | $70.83/mo. |
| Queen | $995.00 | $82.92/mo. |
| King | $1,195.00 | $99.58/mo. |
| Cali. King | $1,195.00 | $99.58/mo. |
Risk-Free Trial
Buying a mattress online without ever seeing it first hand is a completely new concept for most people.
Knowing this, many in the industry now offer "free trial" periods that last anywhere from 30-nights up to a year.
Morphiis offers a 100-night trail with a 100% money back guarantee.
In the event that the mattress is not a good fit, you can request a refund within 100 days of receiving your mattress with no questions asked.
While their return policy is very generous, you really only need a week or two to determine if a mattress is going to work out for you. 100 nights is a bit excessive, although it may come in handy if needed.
Returning the mattress is easy. You simply call or email Morphiis and they will schedule a mattress pick-up. Since it can not be resold, your mattress will be donated to charity.
Final Thoughts
Morpiis is a unique customizable mattress that allows both partners to choose a unique level of firmness for each side of the bed.
You can choose from a soft, medium, or firm feel and adjust the 6 inserts on each side to any configuration that you desire. This allows you to provide more or less support where needed.
Morphiis comes with a 25-year warranty which is better than most mattresses which are offered with a 10-year warranty. A longer warranty period may indicate a higher quality of foam that will not quickly break down or compress.
Morphiis is CertiPUR-US certified which reassures that the foam used in the mattress does not contain any harmful chemicals or toxins.
A 100-night warranty very generous and will ensure that you don't end up owning a mattress that you are not happy with.
Overall, Morphiis has a lot to offer. It's customizable, comfortable, supportive and has several other benefits, making it one mattress worth considering if you are thinking about foam.
Share This Post: