I receive free products and participate in affiliate programs where I may receive a commission, at no cost to you, if you visit a merchant's site and make a purchase using links from within this page. 
Serta iComfort Blue100 Gentle Firm Mattress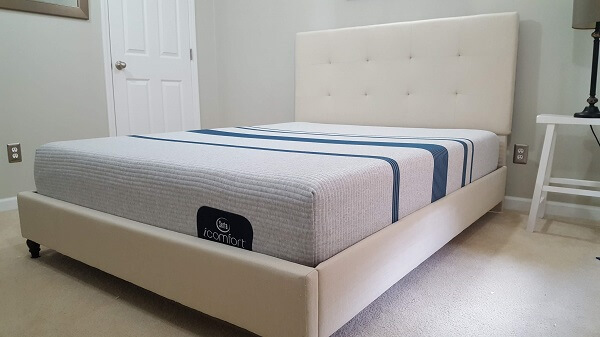 The Serta iComfort foam series is the latest offering by Serta, the number one American mattress manufacturer.
The iComfort is sold in several different levels of firmness including firm, cushion firm, elite luxury firm, gentle firm, plush and elite plush.
The "Blue" collection is the least expensive of the iComfort series and is only offered in firm and gentle firm while the "Blue Max" is more expensive, offered in four firmness levels, and is made with more innovative materials.
In this review, I will be examining the Blue 100 Gentle Firm mattress, which is the least expensive of the six available options. This mattress has a firmness that's somewhere in the mid-range – not too soft yet not too firm.
The Blue 100 is a four-layer viscoelastic mattress that measures approximately 9 3/4″ in thickness. It's available in all sizes ranging from Twin to California King.
Serta claims that this mattress offers enhanced breathability to keep you cool at night, superior pressure relief, and great support. How true are these claims?
During this review, I'm going to walk you through what it's like to own this mattress, discussing everything from shipping and arrival to motion isolation as well as the heat dissipating properties of this mattress. Go ahead and grab a cup of coffee, this is going to be a long one.
Arrival, Unpacking, Assembly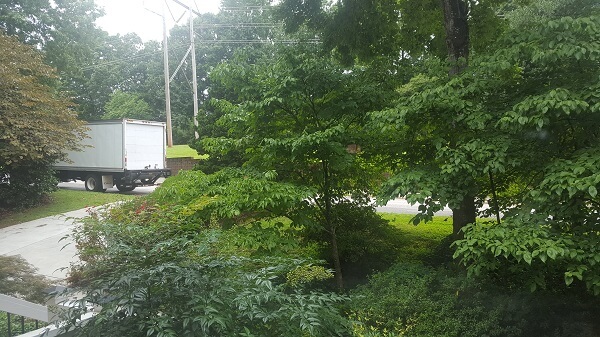 Although the Blue 100 is a viscoelastic foam mattress, Serta doesn't deliver it compressed and rolled up like most foam mattress companies do. Instead, it arrives full-size and encased in plastic.
Due to the size and weight of this mattress, Serta uses a logistics company called MDX who provides white glove delivery. The day before the delivery date, I received a phone call from the delivery company confirming a delivery time frame. The next day, the delivery truck was in route and I was able to track it using the delivery services website. The tracking showed an estimated delivery time as well as which stop the truck was currently on.
The mattress arrived on time and was delivered inside of my home by two gentlemen who offered to move it wherever I wanted. The entire process was smooth and couldn't have been easier.
I chose to leave the mattress inside the protective plastic until I was able to get around to reviewing it. Removal of the plastic and disposal is, however, part of the white glove delivery service that comes standard as is setting up the bed.
Once ready, I cut and removed the plastic cover from the mattress and it put it to use. I must admit, it was nice not having to wrestle with unboxing a compressed mattress and then disposing of the box and plastic wrapping. This one required no unboxing, time to decompress, or assembly. From the moment that it arrived, it was ready to sleep on if so desired.
The Smell Test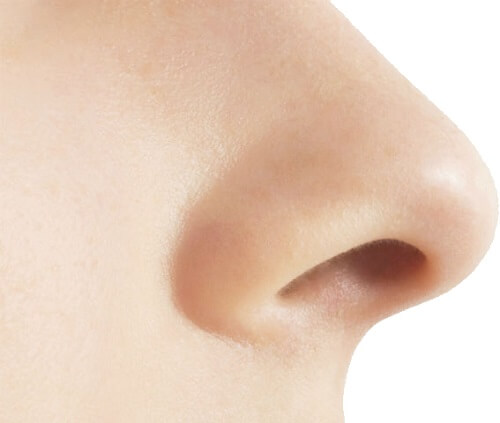 Nearly all new furniture that contains foam will produce some off-gassing which is usually noticeable within the first few days that it enters your home. Think of it as the smell of the inside of a new car.
As the mattress airs out, it becomes less noticeable and eventually disappears. Boxed mattresses that are compressed into an airtight roll will produce more off-gassing when unpacked than those which were not because they don't have an opportunity to air out prior to shipping.
Serta participates in the CertiPUR-US program which means their foams are tested and contain low Volatile Organic Compound emissions, or VOCs, which are responsible for the that "new" smell. In order to become certified, the foam must contain less than 0.5 parts per million of VOCs. This is a very minimum amount.
The first test that I perform is rather simple and involves describing how the mattress smells.
After removing the plastic cover from the mattress, I didn't notice much of a smell at all. In order to detect any scent, I had to bury my face in the mattress. Only then did I detect a faint smell that was not at all offensive. It didn't make me gag or choke as I have before with other mattresses which are often not CertiPUR certified. Within the first couple of days, the faint smell had dissipated and was no longer detectable.
Heat Dissipation Test
While older foam mattresses have been criticized for trapping body heat, newer foam technology now offers a cooler sleeping experience than the mattresses that came before.
The Blue 100 uses two layers of specialty foam to combat body heat. First, the top layer contains 3/4″ of TempActive Gel Memory Foam which is a gel-infused foam that's specifically designed to carry heat away from the body. This viscoelastic material not only cools but also provides pressure relief.
The second layer is a 2″ layer of EverCool Fuze material that offers a supportive feel along with a cool, plush touch. Between the two layers, there's a combined total of nearly 3″ of cooling foam.
While all of this sounds great, you are probably wondering exactly how cool this mattress sleeps. Aside from sleeping on the mattress and offering my opinion, I also conducted a heat dissipation test to give you a better idea of the cooling properties of this mattress.
For this test, I heated a large rice sack in the microwave for two minutes and then placed it on top of the bed. I let it rest for several minutes to allow time for the heat to transfer.
After 10 minutes, I removed the rice sack and measured the temperature drop during the two minutes that followed using an infrared thermometer. Check out the results below.
| Time (Seconds) | Temperature °F |
| --- | --- |
| 0 | 124.4° |
| 10 | 112.4° |
| 20 | 107.6° |
| 30 | 104.9° |
| 40 | 102.5° |
| 50 | 101.0° |
| 60 | 99.5° |
| 70 | 98.6° |
| 80 | 96.8° |
| 90 | 95.9° |
| 100 | 95.6° |
| 110 | 95.0° |
| 120 | 94.1° |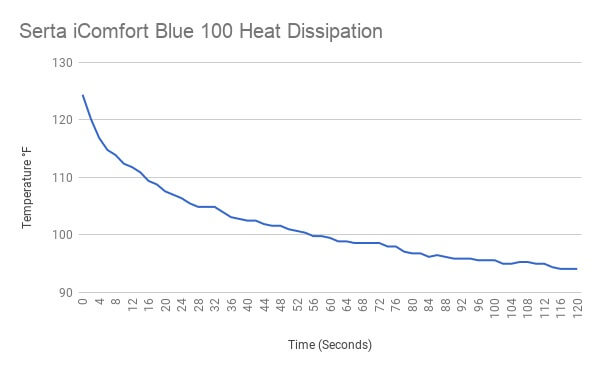 As you can see, this mattress lost a significant amount of heat during the first twenty seconds of the test and continued to cool down at a steady rate for the remainder of the testing period.
The iComfort started out 124.4° and cooled down to 94.4°, a loss of 30°. When compared to other foam mattresses, the cooling properties of this one are excellent.
While sleeping on this mattress, both my wife and I agreed that it sleeps very cool and did not trap heat.
Firmness Test
Firmness can be described as the feel of a mattress when you lay down on it. Firmness will vary based on the density and ILD rating of the foam that's used inside of the mattress. Using foams with a higher ILD base layer will provide a firmer mattress.
Serta considers the iComfort Blue 100 to be a "gentle firm" mattress.
While mattress firmness is a matter of personal preference, most back sleepers, as well as some side sleepers, will find a firmer mattress to be comfortable while stomach sleepers often choose a softer mattress. Also, those who are heavier typically choose a firmer mattress that can provide more support.
In order to demonstrate the firmness of this mattress, I simply placed a 42 lb weight on the surface of the mattress and use a ruler along with a straight edge to measure the drop. In this case, I used a bucket that has been filled with 42 lbs of concrete as a weight.
The test showed that the mattress compressed 2″ with 42 lbs of weight over an area that's 8.5″ in diameter. Comparing this to other medium-firm mattresses that I've tested, I agree with Serta's rating.
Body Support
While the firmness of a mattress describes how it feels, it doesn't say much about its support.
It's a common misconception that a mattress with a firm feel will provide better support than a mattress with a softer feel. While there can be a correlation between the two, mattress firmness and support are two characteristics that should be examined independently.
Mattress support can be viewed as how well the mattress relieves pressure in key areas while maintaining proper posture. If a mattress sinks in at the middle and causes the body to bow, it doesn't provide proper support.
When laying on the mattress, I asked my wife to observe the alignment of my body. Her opinion was that my body remained flat and appeared in line. When sleeping on this mattress, my body felt great in the morning with no noticeable aches or pains.
Recovery Time
Mattress recovery refers to how fast the mattress returns to its original shape after being compressed.
Some foam takes seconds to respond when weight is removed while other foams respond nearly instantly.
A mattress with a slow recovery can leave you feeling stuck inside and unable to roll over or get out of the bed. While some sleep in one position throughout the night, others have a tendency to toss and turn throughout the night. A slow recovering mattress can be problematic for active sleepers.
To get an idea of how this mattress responds, take a look a the video below. As you can see, the base layer of the mattress responds fairly quickly while the top layer of foam gel material responds with a slight delay.
When sleeping on the mattress, I was able to roll over and change positions without experiencing the feeling of being stuck in the mattress.
Motion Isolation Test
Motion isolation or motion transfer refers to how well the mattress localizes motion. In the case of two people sleeping in the same bed, how well does the mattress prevent the other person from feeling movement? This is something to consider if your partner is an active sleeper and moves throughout the night.
Fortunately, foam mattresses, in general, have good motion isolation qualities as they do not contain coil springs which can transfer motion.
To test the motion isolation properties of this mattress, I placed a wine glass on top of the mattress and dropped a 14 lb weight from a distance of 12″ and repeated the test three times. I also used a vibration meter to measure the movement of the mattress. The results of the test are shown below.
As you can see in the video below, there's very little movement in the glass and it does not appear to come close to tipping over.
The vibration meter showed a max reading of 5.9 MMI and a mean of 2.4 MMI, which is fairly low.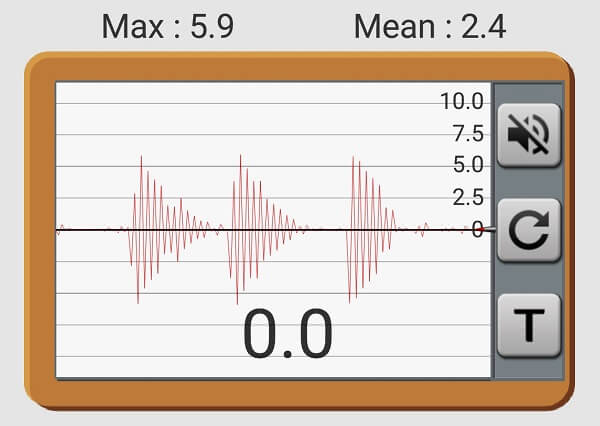 Edge Support
The edge support of a mattress can be important, especially if you are sharing the mattress and need to take advantage of the entire surface area of the mattress.
A mattress with poor edge support may cause you to roll off of the bed if you lay too close to the edge. A firmer edge will support your weight, regardless of your position on the mattress.
When laying close to the edge of the iComfort mattress, I did not experience the feeling of being ejected from the bed.
When sitting on the edge, I did sink down some but remained elevated well above the mattress platform.
Visit Serta's Website
The Company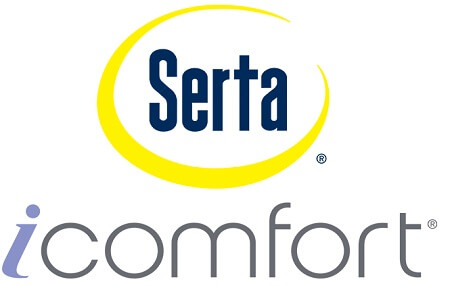 Odds are, you have already heard of Serta mattresses. After all, they are the largest mattress manufacturer in the United States and sell a variety of different types of mattresses including traditional innerspring, memory foam, hybrid, and even a latex collection.
The company was formed in 1931 as Sleeper Incorporated and has since been restructured and changed hands several times. Today, Serta International operates as a subsidiary of Serta Simmons Holding LLC, based out of Atlanta, Georgia.
Serta prides itself in both designing and manufacturing their mattresses in the United States. This is something that not all mattress companies can claim as an increasing number are producing overseas. Serta operates 36 manufacturing facilities in the US as well as one in Puerto Rico and five in Canada.
Serta offers a large collection of mattresses including the Perfect Sleeper, iComfort, Mattress in a Box, Sertapedic, Hotel Mattresses as well as an exclusive collection which includes the iSeries Hybrid and the Bellagio at Home.
Construction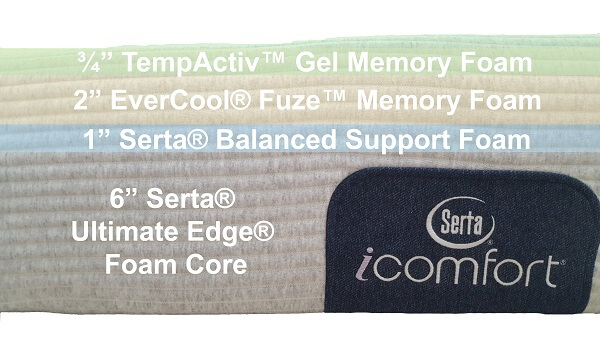 The Blue 100 is made using four layers of foam and is wrapped in a proprietary cool-to-the-touch cover. Let's take a closer look at what's inside of this mattress.
Comfort Layer 
The comfort layer contains two layers of memory foam with a combined thickness of 2.75″.
First up, the TempActiv Gel Memory Foam which is 3/4″ thick and is a layer of memory foam that's infused with cooling gel beads. The purpose of this gel is to absorb body heat and dissipate it away from the mattress in order to keep your body cool.
Just beneath the TempActive layer is a 2″ layer of EveryCool Fuze Gel Memory Foam. The purpose of this layer is to help promote the movement of air while providing pressure point relief.
As we all know, memory foam can trap body heat and leave you sleeping on a hot and uncomfortable mattress. This layer also contains a bit of gel and is designed to allow air to flow freely between the TempActiv Layer and the transition layer.
Transition Layer
In order to create a smooth transition between the comfort layer and support layer, Serta used a 1″ slab of Balanced Support Foam. This layer offers support without compromising comfort.
Support Layer
All mattresses need a support layer. Without one, you will experience poor sleeping posture which can affect the way your body feels in the morning and throughout the day.
Beneath the transition layer, Serta uses a 6″ layer of Ultimate Edge Foam Support Core which supports the body in order to provide the best night sleep possible. Although not disclosed, this layer typically has a high ILD rating.
One unique feature of this layer is its edge support which helps to keep you on the bed when you lay close to the edge. Some foam mattresses will literally throw you from the bed if you roll over. Having a good edge support is helpful if you plan to share your bed with another person.
Firmness Options
The iComfort mattress comes in six different firmness levels which will vary depending on the model that you choose.
If you want to go with their firmest mattress, the Blue 300 fits the bill. The Blue Max 100 is the next firmest mattress followed by the Blue Max 5000.
From there, the Blue 100 model begins to cross over to the softer side followed by the Blue Max 1000 Plush and then the Blue Max 3000 Elite Plush, which is this softest mattress that they offer in this series.
Each mattress in this series varies in price and construction. The mattress featured in this review is the Blue 100 and is a medium-firm mattress which is not too firm yet not too soft.
Limited 10-Year Warranty
The Blue 100 comes with a 10-year limited warranty that's similar to other mattresses in the industry.
Body impressions or sagging greater than .75″ are covered with this warranty. They do ask that the bed is properly supported, meaning it must have a center support along with at least five cross slats. The center support must have legs that extend down to the floor.
The warranty does not cover items such as comfort preference, damage due to abuse or misuse, tears, burns, stains, soiling, mattress fabric, zipper damage due to improper care, normal change in firmness or impression less than 3/4″.
There's nothing that really stands out about this warranty as it's almost identical to the majority of mattress warranties out there.
Pricing & Shipping
The price of the Blue 100 varies according to the size that you choose. Prices start at $659.00 for the Twin and go up to $1,599.00 for the California King. Perhaps the most popular, the queen, sells for $1,099.00.
Free white glove delivery is included with all orders. White glove delivery simply means that two people will deliver the mattress, carry it up to two flights of steps, unpack it, set up the mattress and remove debris as well as the old mattress if you desire.
Heres a chart showing each size mattress and the cost associated with it.

| Size | Price |
| --- | --- |
| Twin | $659.00 |
| Twin XL | $749.00 |
| Full | $919.00 |
| Queen | $1,099.00 |
| King | $1,599.00 |
| Cali. King | $1,599.00 |
Financing Options
Serta does offer the iComfort credit card which gives you the ability to pay the mattress off with 0% financing over sixty months. This offer is only available to qualified buyers. Any balance beyond the 60 month period will be charged 29.49% APR.
This credit card has no annual fee and special financing is only available for Serta purchases.
120 Night Trial
The iComfort series does come with a 120-night in-home trial that allows you to try out the mattress in your home before deciding to keep it.
Serta does ask that you sleep on the mattress for a break in period of at least thirty nights. This will allow your body to adjust to the new mattress.
Anytime between 30 days to 120 days you are able to contact their customer support and request a refund or choose another mattress.
Serta does deduct $200 from the initial purchase price for shipping and handling. They also charge a 15% return and disposal fee, since the mattress will no longer be sellable after use.
Final Thoughts
Choosing on a mattress may seem like an impossible task with so many options. One way to narrow down your list is to choose a mattress that's made by one of the oldest and most trusted names in the industry.
While the iComfort is one of the newest mattresses to hit the market under the Serta name, it was created by a company that has been in the mattress business for over 80 years, unlike many of the newer startups which offers a "white label" product that's made by another manufacturer.
The Serta iComfort Blue 100 is an outstanding mattress that is reasonably priced and has everything that you would ever want in a foam mattress. This mattress remains cool and comfortable throughout the night while delivering excellent pressure relief and support.
This mattress is responsive yet does an excellent job isolating motion. Although it's a foam mattress, it does a great job dissipating heat, due to the layers of patented gel memory foam.
Overall, this is one mattress that I would recommend to anyone who would like to try a foam mattress.
Visit Serta's Website
Share This Post: