I receive free products and participate in affiliate programs where I may receive a commission, at no cost to you, if you visit a merchant's site and make a purchase using links from within this page. 
WinkBed Hybrid Mattress Review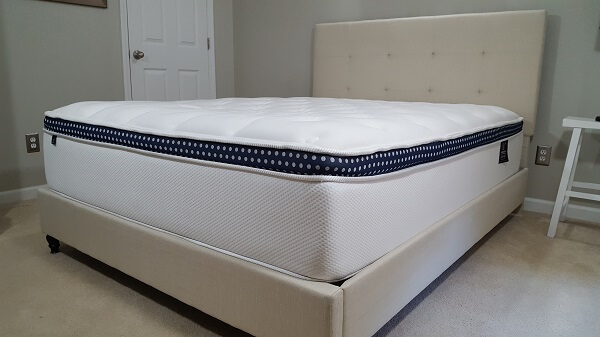 While most online mattress retailers spend their time focusing on making a product that they can squeeze into a smaller box to reduce shipping costs, WinkBeds is raising the bar by offering a high-end mattress at a cost that is 1/3 of what you would expect to pay at a brick and mortar store. Their secret – manufacture a mattress and sell it directly to the consumer while cutting out the middleman.
WinkBeds is a direct-to-consumer mattress company that focuses on delivering a luxury hybrid mattress in a choice of 4 different levels of firmness. Each mattress is built-to-order and hand-crafted in the United States in Watertown, WI using US sourced foams that are CertiPUR-US certified.
This monster 14.5″ thick euro-top hybrid mattress is 33% thicker than the average mattress and is made from six different layers of foam and coils, giving it the feel and appearance that you would expect from a quality mattress.
After reading several reviews on the WinkBed, I had to give one a try to see what all the buzz was about.
Is this bed really as comfortable as they say? Is it worth the price they are asking for it? What makes this mattress different from the hundreds of others that are out there?
Over the next two weeks, I'm going to sleep on this mattress while putting it through a series of tests. Along the way, I will share what I learned (the good and the bad) and will then offer my recommendation.
The Company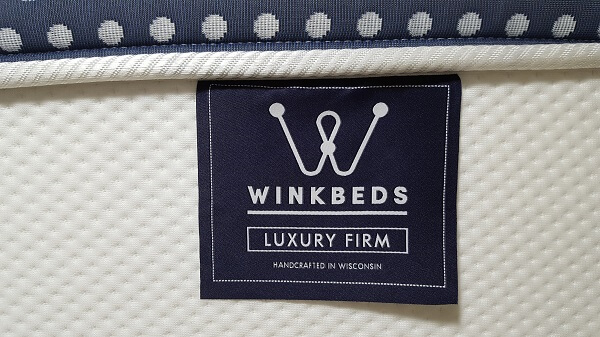 The year was 2014 and Casper had just dropped millions of dollars on advertising, bringing awareness to the "bed-in-a-box" industry that was previously unknown to most. Up until this point, most people had never even considered buying a mattress online.
Within the next several months, dozens of such memory foam mattress companies began sprouting up all over the internet, each creating a slightly different variation of a pressed and rolled foam mattress.
It wasn't long before consumers were becoming comfortable with the idea of buying a mattress online without ever visiting a showroom.
During a period when most startup companies were following a Casper-style business model, WinkBeds company founder Dan Adler had a different idea in mind.
Adler recognized the lack of higher-end luxury mattresses that were being offered online. His idea was to create a direct-to-consumer luxury mattress business to fill this gap.
In March 2015, WinkBeds was launched, offering an alternative for those who are interested in purchasing a mattress online but demanded more than a slab of foam.
Unlike most competitors, WinkBeds does not flatten and stuff their mattresses into a box. They are actually not compressed at all. Their mattresses are wrapped loosely in plastic for protection and then delivered to your home inside of a large cardboard box.
In addition to their mattresses, WinkBeds also sells the coolControl, a mattress base that adjusts the temperature of each side of the bed individually using the same technology used to heat and cool car seats.
Today, WinkBeds remains a small company that continues to thrive with 10 full-time employees.
Mattress Construction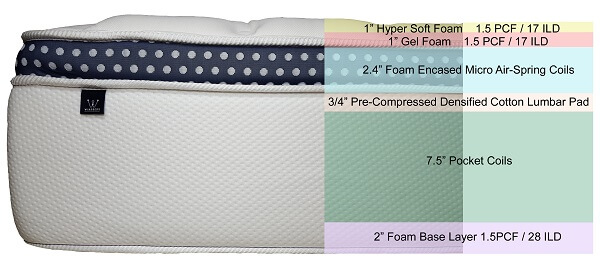 A hybrid mattress such as the WinkBed offers the best of both worlds – a traditional coil spring system which delivers the "bounce" that many of us are accustomed to, and memory foam, which has become a popular choice due to the comfort and support that it offers.
Each WinkBed mattress is made using a combination of six different layers of foam and springs.
Before going into the details of each layer, I'll start by offering a brief explanation of two acronyms that you will frequently hear when shopping for a mattress:
Pounds Per Cubic Foot (PCF) is simply a measurement of foam density. In other words, the weight of one cubic foot of a particular foam. The heavier the weight, the greater the foam density.
Indentation Load Deflection (ILD) is a measurement that indicates how soft or hard a foam is. Using a 4″ thick sample of foam, this is the weight that it would it take to compress the foam by 25% using an 8″ disk. A higher number indicates a harder foam while a lower number indicates a softer foam.
Now that we have that out of the way, let's talk about the 6 layers that make up the WinkBed.
Base Layer: Starting with the base, there's a 2″ piece of support foam with a density of 1.5 PCF and an ILD rating of 28. This provides a base for the pocket coils to rest on.
Tempered Pocket Coils: Located directly above the base is the first layer of individually wrapped American made tempered support springs or pocket coils which are 7.5″ in height and encased in foam. These are also known as Marshall coils, named after the inventor.
Rather than being wired together, these pocket coils operate independently, which helps to decrease motion transfer.
As for pocket coil count, a queen size WinkBed mattress has 858 coils while the king size contains 1,054.
Lumbar Pad: Separating the support coils from the micro air-springs is a 3/4″ lumbar pad which is made from pre-compressed densified cotton.
The purpose of this layer is to reduce stress on the lower back and provide additional pressure relief.
Micro Air-spring Coils: above the lumbar support is a second layer of smaller USA made springs that are referred to by the manufacturer as micro air-spring coils.
These coils are also encased in foam but measure only 2.4″ in height. The purpose that they serve is to promote airflow while providing contoured support.
The queen size contains 1,353 micro-air springs while the king contains 1,722.
Gel Foam: Just above the air-springs is the comfort layer. First up is a 1″ thick breathable premium gel foam layer with a density of 1.5 PCF and an ILD rating of 17.
Gel foam is used to assist with motion isolation as well as heat dissipation. This type of material typically contains gel microbeads which are mixed in with the memory foam to create a cooling effect.
This gel foam layer contours to your body to provide additional support.
Hypersoft Foam: To top things off, a 1″ thick slab of Hypersoft foam is added, which has a density rating of 1.5 PCF and an ILD rating of 17.
This is a soft, fast responding layer of foam which is designed to provide a comfortable surface to sleep on and prevent that "stuck" in the mattress sort of feeling.
The mattress is covered in Tencel and Strech-nit fabric that is softer than silk and has moisture wicking properties that are better than cotton.
Perimeter Support Foam: Around the edge of the mattress there's a perimeter support that's made from a high ILD foam. The perimeter support helps to contain everything inside and is necessary to support the edge.
It's essential because it allows you to lay close to the edge without it collapsing. A bed without good perimeter support will cause you to literally roll out onto the floor if you lay too close to the edge.
The perimeter support is 4.5″ wide and made from 1.5 PCF foam with a very high ILD rating of 65. This firm foam will allow you to sit on the edge without it collapsing.
CertiPUR-US Certification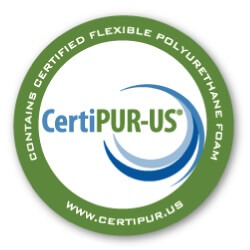 With rising concerns of potentially dangerous, substandard foams entering the United States, the CertiPUR-US program was created in 2008.
CertiPUR-US is a not-for-profit organization that certifies flexible polyurethane foams to ensure that they are made without ozone depleters, PBDE, TDCPP or TCEP flame retardants, heavy metals, formaldehyde, phthalates regulated by CPSC, and that they have Low VOC emissions of less than 0.5 PPM.
In order to display this seal, foam manufacturers must go through the certification process twice within the first year and then annually in order to maintain their certification.
When a mattress manufacturer displays the CertiPUR-US seal, you can be assured that you are receiving a product that's made with foams that have been tested and are safe to use.
WinkBeds states that their mattresses are CertiPUR-US certified. If you take a look at the CertiPUR website, you will see that WinkBeds is listed as a participating company.
Firmness Options – Which One Do I Choose?
When introduced in 2015, the WinkBed was only available in one level of firmness. Today the company allows you to choose from four different levels:
Luxury Firm
Softer
Firmer
Plus
The basic internal structure remains the same with each mattress. A few select components are either added or swapped out to create a different feel. For instance, an additional layer of foam may be added or standard springs may be swapped out for heavier-duty ones.
Here's a description of each firmness level and an example of a person who may choose that level.
Luxury Firm: This is their most popular option because it's suitable for most people. This firmness level is best described as medium and is designed to satisfy the majority of sleepers.
The average person will choose Luxury Firm. This is going to be a mattress that's not too hard yet not too soft.
Soft: If you prefer a mattress that's on the softer side, one that allows your body to "sink" in, then you may be interested in this one.
Consider the soft if you like to sleep down inside of your mattress.
With the softer version, the standard spring set is swapped out for a more flexible, lighter-duty spring set. An extra layer of hypersoft foam is also added to the comfort layer.
Firm: If the Luxury Frim seems like it would be a good fit but you would like a little more midsection support, then the firm option may be for you.
This version of the mattress is identical to the Luxury, except the middle section of supports springs are removed and replaced with heavier-duty ones.
Essentially, this creates three zones. The upper and lower thirds contain the standard pocket coils while the middle third has firmer springs.
Plus: The Plus is also a popular choice.
This mattress is best suited for heavier people who need the extra support that's provided by lower-gauge support springs in the midsection.
The Plus mattress contains the same coil set as the Firmer but has a more supportive edge. Also, the micro air-springs are replaced by seven layers of latex, which also helps to provide better overall support.
If you are a larger person and find that most mattresses that you try do not offer enough support, the Plus firmness level might be right for you.
Having A Hard Time Choosing?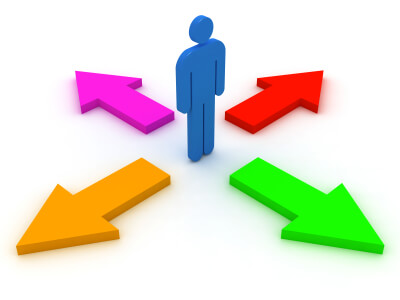 If you already know that you prefer a firm mattress, go with the firm.
If you are certain that you prefer a soft mattress, go with the soft.
For all others (most people) the Luxury Firm will be just right – not too firm, yet not too soft.
Exchange Program
It's easy to see how having four different firmness levels to choose from can make the decision process difficult. Luckily WinkBeds offers an exchange program to help ease your fears of choosing the wrong mattress.
Here's how it works:
If after sleeping on the mattress you find that it's too firm, too soft, or doesn't provide enough support, you can exchange your mattress for one with a different firmness level.
Keep in mind that all mattresses experience an initial break-in period, so give it a little time before deciding to exchange it.
WinkBed does charge a $49.99 fee if you decide to exchange your mattress. This helps to cover the cost of shipping a new mattress to your house and removing the old one.
To avoid the hassle of having to exchange your mattress, spend a little time thinking about which firmness level would be the best fit before ordering.
Warranty
As with most mattress companies, WinkBeds comes with a 10-Year full replacement warranty. This seems to be the standard in the industry, as very few companies offer a warranty that exceeds this length of time.
There are several items that are not covered by this warranty. Some examples include:
Normal wear and tear
Burns, tears, stains, soil
Issues due to improper boxspring support
Impressions that are 1.5″ or less
Damage caused by tampering
Contact WinkBeds for a full list of items that are not covered.
Overall, the warranty, as well as details, are identical to nearly every mattress out there.
Pricing & Financing Options
Pricing
The cost of a WinkBed will vary based on size. The larger the bed, the more you should expect to pay. Also, the cost of each mattress is about $200 more if you choose the "plus" firmness level.
You can save $50 by using Promo Code SMG50 at checkout.
The prices in bold reflect the cost after the promo code is applied.

Size
Price
Financing

Twin
$749.00
$699.00
$124.83/mo.
$116.50/mo.
Twin XL
$849.00
$799.00
$141.50/mo.
$133.17/mo.
Full
$999.00
$949.00
$166.50/mo.
$158.17/mo.
Queen
$1,299.00
$1,249.00
$216.50/mo.
$208.16/mo.
King
$1,499.00
$1,449.00
$249.83/mo.
$241.50/mo.
Cali. King
$1,549.00
$1,499.00
$258.17/mo.
$249.83/mo.
Financing
If making a single payment of several hundred dollars isn't feasible, WinkBeds does offer financing options.
They have partnered up with e-Commerce financing company Bread to offer 6 months, 0% APR financing to those who qualify.
If you have less than perfect credit, Bread may still offer a loan with an APR rate that ranges from 1.00%-29.99%.
You will, however, need to enter some information to learn the exact rate they can offer. The good news is that checking your rate will not affect your credit score.
As for monthly payment options, Bread accepts check, money order, ACH transfer or debit card.
Lease To Own
Perhaps your credit is not so great. There's still one option that you may want to look into.
WinkBeds is also partnered up with Zibby, a lease-to-own company that allows you to pay over time for items such as furniture, appliances, and electronics.
They require no credit check, and it takes about 30 seconds to get approval for up to $3,500.
In order to apply, you will need to provide some basic information such as your name, phone number, address, SSN, email, and a photo ID.
Lease options are for 12, 18, or 24 months and renew automatically.
Zibby is available in all states except for Minnesota, New Jersey, Wisconsin, and Wyoming.
Trial Period
The thought of buying a mattress online without ever touching it can be difficult to accept. What if the mattress is not what you expected?
Fortunately, many online mattress companies are now offering a free trial so that you can be certain that the mattress is right for you.
You do have to exercise some caution when choosing a company that offers a "free trial". Before ordering, be sure to read the fine print in their return policy. You may be responsible for "return processing fees" or "restocking fees".
WinkBeds offers a 101 night free trial with no restocking fees and no return processing fees. 
Simply stated, if you don't like your mattress, you can contact WinkBeds and they will pick it up and refund the full amount that you paid. This is truly a free trial with no hidden costs if you decide not to keep your mattress.
Shipping & Delivery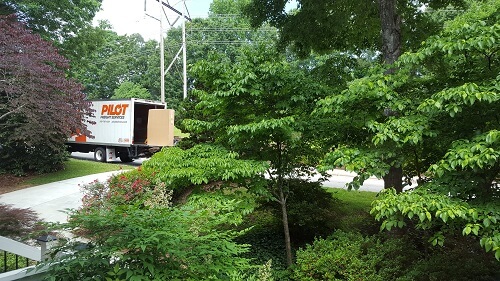 When I ordered my WinkBed, I received an autoresponder email letting me know that my mattress was being made and that I would receive notice once my mattress has shipped.
I was surprised to receive an email only a few hours later letting me know that my WinkBed was finished and it was on the way. Perhaps I chose a good time to place my order – I'm not sure.
WinkBeds delivery service, Pilot Freight, sent out an email the same day asking me to schedule an appointment to receive my delivery. I had scheduled my delivery for the first available date, which was 4 days after it had arrived at the local warehouse.
Seven days after placing my order, the delivery driver arrived on time in a Pilot Semi truck with a lift gate and carried the mattress inside my home.
Unboxing & Setup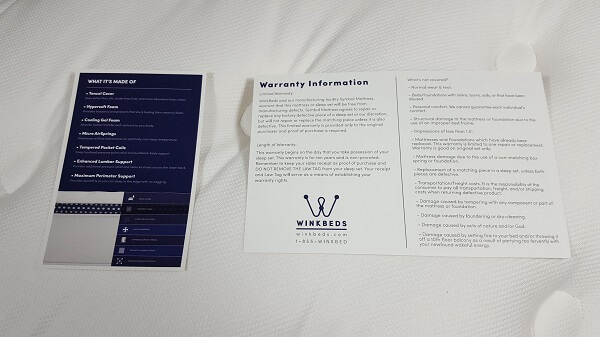 Once inside, I removed my WinkBed from the box that it came in and took off the protective layer of plastic before setting it up.
After uncovering the mattress, my initial impression was that it appeared to be well made and way more luxurious than I had envisioned. The Tencel fabric that topped the mattress was very soft and plush.
With the help of my wife, we hoisted the mattress up onto a previously used wood slat bed which was still in good condition. Since the mattress weighed just under 80lbs, maneuvering it proved to be a manageable task for two people.
If you don't have the ability or desire to set up this mattress, WinkBeds does offer a premium white glove delivery service. For an additional $99, they will deliver the mattress, unbox and unwrap it, place it on top of your bed platform and remove all the trash from your home.
They will also haul away your old mattress for an additional $60. Their mattress removal service is an add-on item if you were to go with the white glove delivery option.
The Smell Test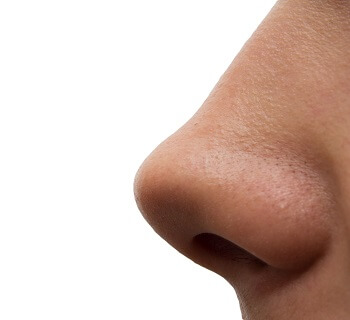 Have you ever purchased something new and noticed that it emits a chemical smell? Sometimes the smell can be so strong that it causes irritation while breathing or even headaches.
This smell is actually called off-gassing and it's caused by the release of volatile organic compounds (VOCs) which are created as a result of the manufacturing process.
VOCs can be found in nearly everything produced including new carpet, cleaning products, building materials, and new furniture. Most experts agree that VOC's are relatively harmless at low levels.
There's certainly no shortage of mattresses out there, especially foam mattresses, that give off this "new foam" smell when they are removed from their package.
When a freshly manufactured foam mattress is vacuum sealed and squeezed into a box, VOCs are unable to escape and are released when the mattress is opened once it arrives at your home.
Since WinkBeds are made to order, they are not sealed, packaged, and stored in a warehouse for months. What this means is that most off-gassing that's created by the foam has a chance to escape before reaching your home.
As mentioned, WinkBeds uses CertiPUR-US certified foams which guarantees super-low VOC emissions of less than 0.5 PPM.
After unpacking my WinkBed, the first thing that I did was give it the smell test and found that my mattress did not produce any off-gassing odors. It smelled like fresh linens and did not have a chemical smell at all.
If you are sensitive to smells, this mattress will not cause you any issues.
Heat Dissipation Test

The WinkBed is made with a layer of gel memory foam as well as hundreds of foam encased micro air-spring coils.
The gel foam is infused with gel beads which have cooling properties and are designed to help carry heat away from the mattress and your body.
The micro air-spring coils, located just below the gel foam, permit air to flow through the mattress, allowing it to breathe.
In addition, the Tencel cover has moisture wicking properties which help to carry any sweat away from the mattress.
Most people agree that a hot-sleeping mattress is uncomfortable and will prevent you from getting a good nights rest. Because of this, I like to conduct a heat dissipation test which measures how fast a mattress cools.
This test allows you to visualize how cool or warm a mattress may sleep.
A heat dissipation test was conducted using a 3lb rice bag, which was heated in the microwave for 2 minutes before being placed on the mattress for a total of ten minutes.
After the mattress was heated, the rice bag was removed and heat loss was measured over the course of two minutes using an infrared thermometer and a stopwatch.
The temperature and time are noted in the chart below.
| Time (Seconds) | Temperature °F |
| --- | --- |
| 0 | 112.1° |
| 10 | 102.5° |
| 20 | 98.9° |
| 30 | 96.8 |
| 40 | 95.3 |
| 50 | 94.1 |
| 60 | 92.6° |
| 70 | 91.4° |
| 80 | 90.5° |
| 90 | 90.5° |
| 100 | 89.8° |
| 110 | 89° |
| 120 | 88.4° |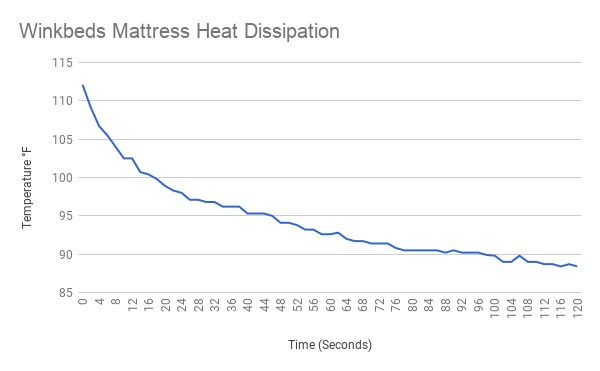 As you can see, the temperature dropped 15.3° during the first thirty seconds.
Between 30-60 seconds the WinkBed lost an additional 4.2°.
Between 60-90 seconds, it experienced 2.1° of heat loss.
During the final 30 seconds, it lost an additional 2.1°.
WinkBed lost a total of 23.7° during this 2-minute experiment. 
The greatest amount of heat loss occurred during the first 30 seconds followed by the second 30 seconds. The amount of heat loss seemed to stabilize and slowly fall during the second minute of this test.
Overall, this mattress dissipated heat fairly well, considering it is topped with memory foam which has a tendency to hold heat. The gel infused foam seemed to perform much better than standard memory foam.
My wife and I both agree that this mattress slept very cool.
Firmness Test

When shopping for a mattress, you will notice that the first thing that most people do is sit or lay on a mattress to get an idea of how soft or firm it is.
Some prefer their mattress to be soft while others like it hard, and then there are those who prefer something in between. Firmness level is usually expressed on a scale from 1-10 with 1 being on the soft side and 10 being on the harder side.
By far, the most popular choice of mattress is a medium or luxury firm. This is also the firmness level that I chose for my WinkBed. When sleeping on the mattress, I found the plush euro-top provided a cozy surface, while the supportive spring prevented me from sinking down too far into the bed.
On a scale from 1-10, I would rate my luxury firm mattress somewhere around a 6 or 7. 
As mentioned earlier, an Indentation Load Deflection (ILD) test is used to measure the firmness of a foam.
Using a 2-gallon bucket filled with 42lbs of concrete, I measured how far this mattress sinks in when weight is applied. This test allows you to visualize the firmness level if you were to choose the luxury firm.
As you can see in the video, the mattress compressed 2.125″ over an 8.25″ circle area. 
Body Support
Firmness isn't the only factor that should be considered when deciding on a bed. A mattress should properly support your body weight so that you sleep with your spine aligned. Without proper support, you may wake up with aches and pains in different areas including your neck, shoulders, or back.
The amount of support needed depends on your weight and body style. A larger, heavier person will require more support than a smaller, lighter individual.
Just because a mattress is considered firm doesn't mean that it will provide enough support for you. Even a soft mattress can be too rigid and provide too much support.
The way to tell if a mattress provides enough support is to lay down in your normal sleeping position and have another person observe your body alignment. Your spine should remain straight and in line. If your back is bowed up or down, the mattress is either not providing enough support or too much support.
I'm 6'1, 215lbs and I found that the luxury firm mattress provided just the right amount of support. 
When choosing a mattress, keep in mind that what works for one person will not work for all. If you are a heavier person, consider choosing the "plus" mattress which is made with stiffer coil springs and will provide better support.
Recovery Time
The recovery time of a mattress refers to how fast it returns to its original shape after being compressed.
You have probably seen a piece of high-density memory foam that takes several seconds to bounce back once compressed. While this type of foam may be ideal in some applications, most people prefer a foam that responds quickly, as slow responding foam can create a rut that's difficult to roll out of and can leave you feeling stuck in the mattress.
There are however a few who enjoy the feel of a slow responding foam. Some prefer a slow recovering foam mattress in which they can create an impression of their body and remain nestled in the exact same spot throughout the night.
Recovery time is especially important if you are considering an all foam mattress where no coils are present.
Since the WinkBed contains two sets of springs topped by 2″ of 17 PCF foam, my expectation was that it will respond fairly quickly after being compressed.
As you can see in the video demonstration above, the WinkBed has a very fast recovery time that is almost instant. There's no need to be concerned about being swallowed into the mattress.
Motion Isolation Test

Motion isolation refers to how well a mattress is able to absorb one's movement. Certain types of mattress materials, such as memory foam, are known to absorb movement better than others.
If your partner has a tendency to move around the bed at night, you may want to consider a mattress that isolates motion well.
The comfort layer of the WinkBed contains 2″ of memory foam which assists with motion transfer. To further assist, the pocket coils in the WinkBed are individually wrapped with foam and are not tied together.
I performed a motion isolation test on this mattress to give you an idea of what you should expect.
Two measurement tools were used simultaneously – a vibration meter app and a wine glass that was filled halfway with water.
Here are the basics of how I conducted the test:
On one side of the bed, I set up a wine glass that contained water.
On the other side of the bed, I dropped a 17.6 lb kettle ball on to the mattress from a height of 12″. This test was repeated 3 times.
The movement of the glass was observed and meter readings were noted.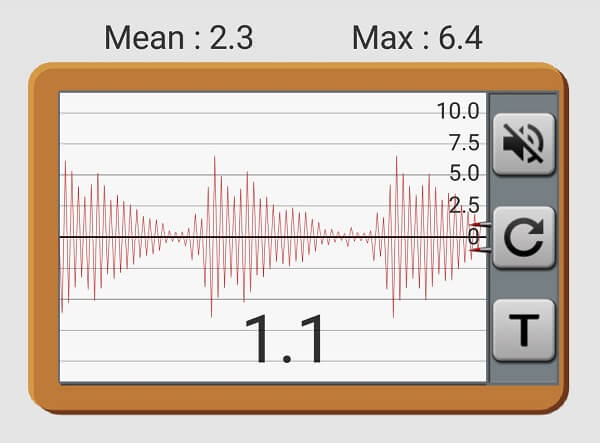 As you can see, the meter showed a mean reading of 2.3 MMI and a max reading of 6.4.
In the video, you can see some movement in the wine glass, but certainly not enough to cause it to fall over and spill onto the bed. Overall, the WinkBed held up fairly well during the motion isolation test.
How did it sleep?
My wife and I both have a tendency to toss and turn quite a bit while asleep which can be disturbing to each other. Our prior mattress also contained pocketed coils which helped.
While sleeping on the WinkBed, our expectations concerning motion transfer were met. We were both able to sleep well without disturbing each other. No complaints here.
Edge Support
There are a couple reasons why edge support should be considered when evaluating a mattress.
First, you don't want to roll off of the mattress when laying too close to the edge. A mattress with poor edge support will collapse when too much weight is applied to the edge.
The other reason for needing edge support is to hold your body up when sitting on the edge of the bed, say to tie your shoes.
The perimeter of the WinkBed is wrapped with a very firm 4.5″ strip of foam with an ILD rating of 65.
This foam creates a very firm edge that allows you to utilize all of the bed space.
Sitting on the edge, I noticed that the mattress barely moved down. Overall, the WinkBed offers excellent edge support.
Final Thoughts
WinkBed is an all-around great choice for anyone who's interested in trying a hybrid mattress without taking on any risk, thanks to their generous trial.
It's made in the US from CertiPUR certified foam and other US  made materials. Looking at the quality and craftsmanship of this mattress, it is clear that WinkBeds takes pride in what they offer.
I found this bed to sleep cool and comfortable. As a side sleeper, the Luxury Firm provided just the right amount of support.
While you can expect to pay $200-$400 more for this mattress compared to an all-foam bed-in-a-box style mattress, the extra money for a high-quality coil spring hybrid mattress is well worth it.
Winkbeds is not another bed-in-a-box. It's a high-quality mattress that's not squished into a box. Similar higher-end mattresses that are found at a mattress store sell for $3,000+. WinkBeds cuts out the middle-man markup and delivers a mattress for about 1/3 of the cost.
My recommendation – If you have the cash (or ability to finance) and want a high-quality mattress, buy this one and you won't be disappointed.
Share This Post: