I receive free products and participate in affiliate programs where I may receive a commission, at no cost to you, if you visit a merchant's site and make a purchase using links from within this page. 
eLuxury 10″ Gel Memory Foam Mattress Review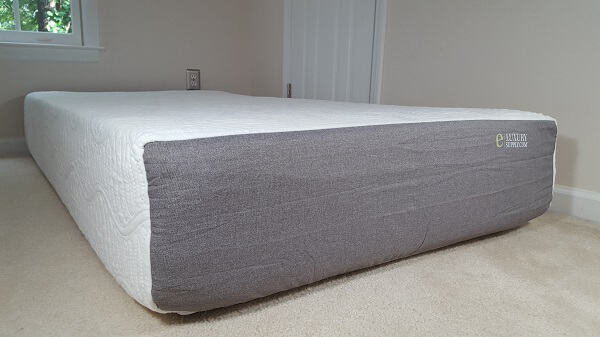 Foam mattresses in a box have become popular in recent years as an increasing number of people are choosing the comfort and convenience of buying a mattress online. They can be a great option for those who enjoy the simplicity of online shopping while avoiding high-pressure sales tactics that are often used by mattress stores.
Memory foam mattresses can be compressed, packaged, and shipped to your doorstep in a surprisingly small box. Upon arrival, you can easily move it into position before removing the plastic and allowing it to expand into its original shape and size.
eLuxury, a company that has made a name for itself selling Luxury sheets at a reasonable price, had recently introduced a selection of foam mattresses to their lineup of products.
Their mattresses are handmade in the United States using the same high-quality standards as their sheets.
In this review, I'm going test out their 10″ eLux Gel Memory Foam Mattress and present my findings.
Shipping And Delivery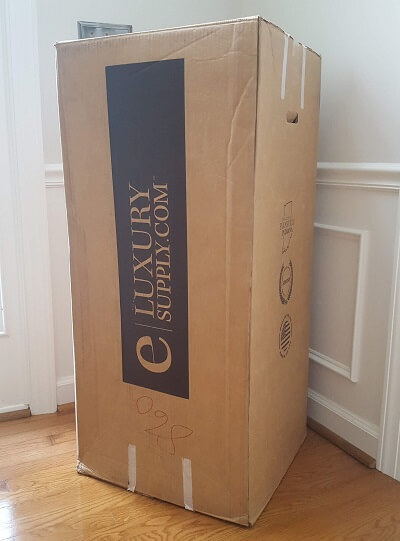 According to the eLuxury website, warehouse handling time takes between 1-2 business days and transit time is typically 1-5 business days for domestic orders while international orders can take 5-10 days.
My eLuxury mattress shipped on a Wednesday and arrived by Friday. It was packaged inside of a 19″ X 19″ X 42″ box with a shipping weight of 45 lbs (twin size).
I was able to maneuver the mattress by myself, although I could have used a helping hand. Those who order larger mattresses should definitely consider recruiting a helping hand to help carry it.
The package contained some information such as setup instructions, a "Thank you" card, and a warranty card.
Using a pair of scissors, I carefully cut across the first layer of plastic and unrolled it. I then punctured the vacuum seal and removed the second layer of plastic.
Within a few minutes, the bed seemed to have fully expanded, although I allowed it to sit for the full 24 hours as suggested before putting it to the test.
Setting up the mattress was super easy and only took a few minutes. It actually took longer to break down the box and carry it to the recycling cart along with the plastic wrapping.
The Smell Test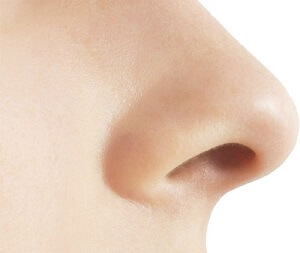 Some foam mattresses give off a strong odor, especially once they are unpackaged and decompressed. In most cases, the odor usually disappears in a few days, although in some cases the smell can be long-lasting.
This smell is caused by off-gassing of Volatile Organic Compounds (VOCs) which are found in all freshly manufactured foams. Adhesives that contain acetone are sometimes used to bind together foams and may also produce a smell.
The smell can range from a slight "new" scent to a noxious odor that may irritate the respiratory tract and eyes. In some cases, the odor may cause dizziness, nausea, or headaches.
The foam that is used to make the eLuxury mattress is CertiPUR-US certified and one of the certification requirements is that the foam must contain low VOCs levels of less than 0.5 parts per million. Because of this, my expectations were that this mattress would produce little to no smell.
After removing the plastic packaging, the first thing that I always do is give it the sniff test, so I placed my face on the mattress and gave it a good whiff.
Not surprisingly, this mattress gave off very little odor. The smell that it did give off wasn't unpleasant at all and disappeared after a couple days.
Heat Dissipation Test

In the early days, foam mattresses gained a reputation for retaining heat. One of the most common complaints was that these mattresses sleep hot.
Foam material has come a long way since then and today there are foams that have gel beads incorporated into the material which helps to carry away body heat and allow for cooler sleeping.
The top of the eLuxury mattress has a 3″ layer of gel foam which helps to facilitate heat removal from the mattress.
In order to give you an idea of how well the eLuxury mattress dissipates heat, I heated it up and measured the temperature as it dropped. You can compare the results of this test to other mattresses that I have reviewed.
I heated a 3 lb rice bag in the microwave for 2 minutes and then placed it on top of the mattress for 10 minutes in order to simulate body heat.
I then removed the rice bag and a no-contact inferred thermometer was used to measure the surface temperature over the course of 2 minutes. You can see the test results in the charts below.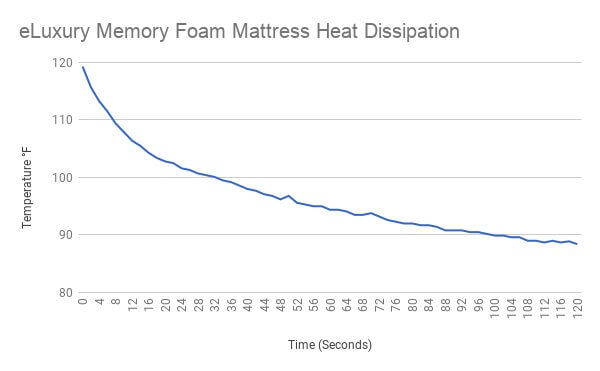 | Time (Seconds) | Temperature °F |
| --- | --- |
| 0 | 119.3° |
| 10 | 107.9° |
| 20 | 102.8° |
| 30 | 100.4° |
| 40 | 98° |
| 50 | 96.8° |
| 60 | 94.4° |
| 70 | 93.8° |
| 80 | 92° |
| 90 | 90.8° |
| 100 | 89.9° |
| 110 | 89° |
| 120 | 88.4° |
As you can see, the eLuxuary mattress experienced rapid heat loss during the first 20 seconds before gradually slowing down. Here's a quick summary of the heat loss in 30-second increments.
0-30 seconds: 18.9°
31-60 seconds: 6°
61-90 seconds: 3.6°
91-120 seconds: 2.4°
Over the course of 2 minutes, the mattress cooled a total of 30.9°. Considering that it's a foam mattress, it did an excellent job dissipating heat.
When trying out the mattress, I found that it slept as cool as many coil spring mattresses that I have slept on. 
Firmness Test

Mattress firmness, not to be confused with mattress support, describes the feel of a mattress and can range from very soft to very hard. Some mattress manufacturers use a scale from 1-10 to describe the firmness of their mattress.
In the end, the firmness of a mattress is somewhat subjective and will vary from one person to another depending on factors such as weight, body style, and sleeping position.
There is a method called Indentation Load Deflection (ILD) that can be used to help quantify the firmness or softness of a foam.
ILD simply measures the amount of weight that it takes to compress a 4″ slab of foam by 1″ within an 8″ diameter circle area. The more weight required, the higher the ILD rating and the "firmer" the foam.
Some mattress manufacturers offer both the foam density rating as well as the ILD while others only offer one and some do not offer either.
While eLuxury gives the density of each foam, they do not offer an ILD rating.
With each mattress that I review, I add 42lbs of weight and measure how far the mattress compresses. You can use this measurement to compare firmness levels of other mattresses on this site.
I placed a concrete-filled bucket onto the bed and used a straight edge to measure how far the top of the mattress compressed. As you can see in the video above, the mattress compressed 2 3/8″.
eLuxury states that their mattress is a "medium". The firmness test showed results similar to other medium firmness mattresses that I've tried.
The feel of this mattress is not too hard yet not too soft – somewhere in the middle. I will have to agree that this is a medium firmness mattress with a rating somewhere around a seven.
Body Support
While you may find that a mattress has the desired firmness level, this does not necessarily mean that it offers proper support.
Support refers to how well a mattress provides pressure point relief while aligning your spine. Sleeping with too much or too little support will misalign your body and cause discomfort during your waking hours.
A mattress that provides proper support can have a firmness level that may fall anywhere between very soft and very hard. For this reason, it's important not to confuse the two.
The way to determine body support is to lay on the bed in your normal sleeping position and have another person observe your body alignment. If your body is in a "V" or "U" shape, the mattress is not providing enough support.
When laying on this mattress, I had my wife take a close look at my body alignment and she found that my spine was aligned when laying in both the side and back sleeping positions.
I'm 215 lbs and felt as though it did a great job providing proper support.
eLuxury uses a combination of 2 fairly dense foams which help to provide good pressure point relief compared to a lower density foam.
I would say that this mattress should support most body types. Keep in mind that if you are a larger person, the foam is going to compress more and support may become an issue if your weight is in the upper 300's.
Recovery Time

Depending on the type of memory foam used, every mattress will have a different recovery time once compressed.
Why is this important?
A slow responding foam mattress can make it difficult to change positions and may leave you feeling stuck inside of the mattress. You may want to choose a foam that contours to the shape of your body but quickly returns to its original shape once weight is taken off.
Since this mattress does not contain any coil springs, you should consider the recovery time.
In the recovery time test, I press firmly on the mattress and observe the response time. Take a look at the video above and you can see for yourself.
The foam that's used in the eLuxury mattress recovers very quickly. The base layer bounced back almost immediately while the gel foam comfort layer only took about a second to recover.
When laying on the mattress, I did not experience the feeling of being stuck. I was able to roll over multiple times without any issue.
Motion Isolation

Motion isolation or motion transfer refers to how well a mattress can isolate movement. This is especially important if one or both partners toss and turn throughout the night or make frequent trips to the restroom.
When it comes to motion isolation, this is an area where most foam mattresses are superior.
While a quality pocketed coil mattress works well to isolate motion, a foam mattress almost always performs better.
I performed a weight drop test in order to give you an idea of how well this mattress isolates motion.
On one side of the bed, I dropped a 17.6 lb weight from a distance of one foot. On the opposite side, I placed a wine glass that was half-filled with water.
I used a phone app to measure vibration that occurred.
The weight drop test was performed three times and the results are shown below.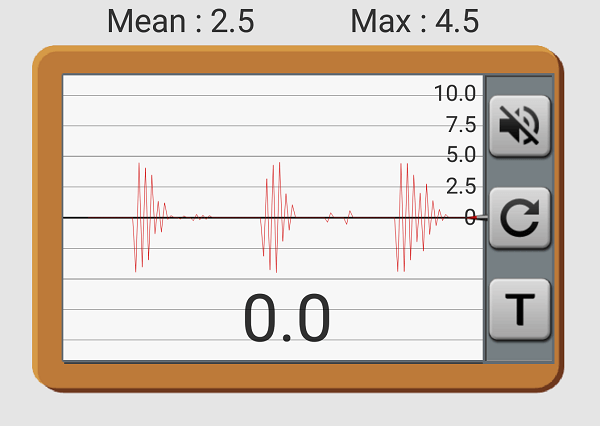 As seen in the video above, very little movement of the glass occurred with this mattress. Also, the vibration meter registered low scores with a mean of 2.5 MMI and a max of 4.5 MMI.
As anticipated, the eLuxury mattress performed quite well in motion isolation test.
Edge Support
Edge support simply refers to how well the edge of a mattress supports your weight.
This is important because a mattress with good edge support allows you to utilize the entire surface area. A mattress without a supportive edge can cause the feeling of being ejected from the bed if you lay too close to the edge. Also, a bed with poor support will make tasks such as putting on your shoes difficult.
To test the edge support, I first sit on the edge of the mattress and then lay down in the center and roll toward the edge to see how it feels.
While sitting on the edge, the mattress seemed to provide a fair amount of support, although it was not as supportive as other coil mattresses that I've tried.
While laying down, rolling around or sleeping on the bed, I didn't experience the feeling of being tossed from the bed.
I found the edge support to be satisfactory. The foam used in the mattress allows you to enjoy the entire area of the mattress without fear of being ejected from the bed.
The Company

eLuxury is privately owned and operated by Paul Saunders of Evansville, IN. Saunders was a former Marine officer and Naval academy graduate who stumbled upon the idea of selling high-quality, reasonably priced sheets while searching for a sheet set to give to his wife as an anniversary gift.
While shopping, he had become disappointed with what the market had to offer. Saunders noticed that there was a lack of high-quality sheets being sold at a reasonable price. He thought about creating an e-commerce website that would fill this void.
This idea soon became reality in 2009 when Saunders launched an e-commerce store and fulfilled orders from his garage. In 2013, as the business outgrew his home, he relocated operations to a nearby warehouse.
The company soon began expanding far beyond sheets to include mattress pads, pillows, blankets, quilts, duvet covers, pillowcases, sheets, and comforters. They also sell a number of other household items.
eLuxury eventually decided to start manufacturing several of their own products. In 2014 they purchased a factory in Tennessee and had become both a manufacturer as well as an e-commerce seller. Since then, they have moved this manufacturing facility to Evansville, Indiana which has brought hundreds of jobs to the area.
Most recently, eLuxury decided to capture a portion of the rapid-growing mattress-in-a-box market by offering three different mattresses including their 8″ Gel Foam, 10″ Gel Foam, and the 12″ hybrid mattress.
Today, eLuxury is the fastest growing company in Indiana and the fourth fastest growing company in the US.
eLuxury believes in giving back and is committed to supporting their local community as well as several national organizations such as the March of Dimes, Toys for Tots, Soldiers Dogs for Independence and St. Judes Children's Hospital.
Mattress Construction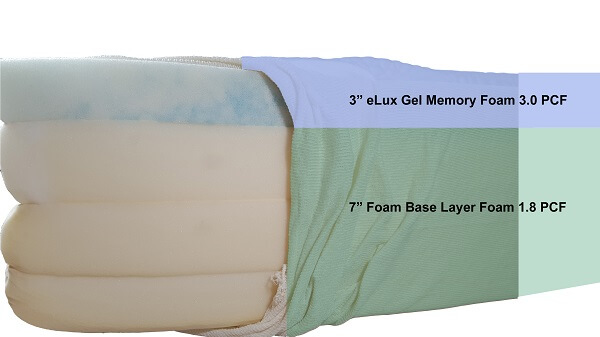 A high-quality foam mattress will offer both proper support as well as a cool and comfortable sleeping surface.
In order to achieve this, two or more foam materials need to be joined together, which is exactly what eLuxury did.
The eLuxury mattress is 10″ thick and contains two layers of foam. These layers include:
7″ base layer
3″ comfort layer
First, a 7″ layer of base foam with a density of 1.8 lbs is used to provide the support that your body needs in order to maintain alignment and quick response when weight is added or removed.
The pound rating refers to the density of the foam and is simply the weight of one cubic foot of a particular foam material. Typically, a more dense foam will weigh more.
On top of the base layer is a 3″ layer of comfort foam which is no ordinary piece of foam. This is a dense layer of 3 lb gel-infused foam which offers a soft and comfortable surface along with cooling properties. Standard memory foam has a tendency to trap heat, so gel beads are added to the foam which helps to dissipate heat. This keeps your body cool and dry throughout the night.
The mattress is covered with a material that's a blend of 80% polyester and 20% spandex and has a nice feel that's not too thin yet not too thick.
CertiPUR-US Certification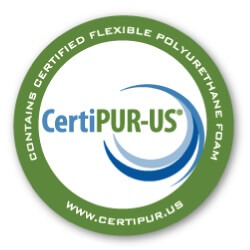 Safety is a concern that's at the top of most people's list.
On average, a person sleeps for 8 hours per night. This means that we spend 1/3 of our lives in bed which is why it's important to know exactly what's inside of your mattress.
In 2008, the CertiPUR-US certification program was created in order to address the issue of potentially dangerous foams that were being imported and used in furniture manufacturing.
CertiPUR-US is a not for profit organization that certifies foams that are used to manufacture mattresses among other products. In order to display the CertiPUR-US badge, a foam must pass an annual test and cannot contain any of the following:
Ozone depleters
PBDE, TDCPP, TCEP flame retardants
Mercury, Lead, other heavy metals
Formaldehyde
Phthalates regulated by CPSC
High levels of VOC's
eLuxury is currently listed on the CertiPUR-US directory as being an active member. Both their foam and mattresses are made in a factory in the state of Mississippi.
Mattress Firmness
This mattress is only offered in one level of firmness, which the manufacturer describes as medium or 7 out of 10. The majority of people find a medium firmness mattress to be comfortable.
If you prefer a very soft mattress or a very firm mattress, this mattress may not work for you. If you are unsure of which firmness level is right for you, there is a good chance that this medium will work.
Will It Support Heavier People?
This mattress supports up to 800 lbs or 400 lbs per side, so even if you are on the heavier side, it should provide enough support.
Warranty
The 10″ foam mattress from eLuxury comes with a 10-year full coverage warranty. A 10-year warranty is fairly standard in the in the mattress industry.
There are however some limitations to this warranty which includes:
Damage due to improper use, negligence, or improper storage
Slower than normal bounce back
Indentation due to improper support
The use of cleaning products which may compromise materials
Mold, dirt, stains, burns, or tears
eLuxury provides a warranty card with each mattress, which lists the details as well as all of the exclusions that apply.
Pricing
The eLuxury mattress varies in cost depending upon size. Expect to pay between $489.99 – $799.99. In comparison to other 2-layer gel foam mattresses, this one is priced fairly.
If you prefer to make monthly installments, this is an option with the eLuxury mattress. They have partnered with Bread to offer easy and affordable financing.
Your monthly payment is determined by your interest rate which is determined by your credit score. The table below shows the monthly payment amount with an interest rate of 9.99% APR over a 36-month term. This payment amount will, of course, vary by individual.
In addition to using Bread, you can also choose PayPal credit and receive interest-free financing for six months.
Shipping is free on orders over $50, so any size mattress qualifies for free shipping.
| Size | Price | Financing |
| --- | --- | --- |
| Twin | $489.99 | $22.61/mo. |
| Twin XL | $504.99 | $23.30/mo. |
| Full | $604.99 | $27.91/mo. |
| Queen | $679.99 | $31.37/mo. |
| King | $779.99 | $35.99/mo. |
| Cali. King | $799.99 | $36.91/mo |
Trial Period
As with most online mattress stores, eLuxury does offer a trial period in which you try out their mattress and if you are not satisfied, you can return it for a full refund.
The idea may seem difficult to believe, but such offers are not uncommon in the online mattress industry. After all, most buyers are reluctant to purchase a mattress online because they are unable to lay on it first. A trial period helps to ease this fear.
eLuxury offers a 120-night trial period in which you can test out their mattress to see if it's right for you. The length of this trial period is slightly better than average compared to others who are selling similar mattresses.
If you decide that this mattress is not for you at any time during the trial period, contact them and they will send someone to pick it up and issue a refund for 100% of what you paid. The mattress will be disposed of or donated to a local shelter.
The truth is, you will know if the mattress is right for you within the first 3-4 weeks, so a trial period that lasts 4 months is really excessive.
Keep in mind that a new mattress will offer more support than an old one. Because of this, it may be somewhat uncomfortable for the first few weeks until you break it in and become accustomed to sleeping on it.
Final Thoughts
There are a lot of factors that one should consider when choosing a mattress. The first step is to decide which type of mattress may be right for you.
Foam mattresses, such as the one offered by eLuxury, are a great alternative to traditional coil spring mattresses. You can order one online and it will arrive at your doorstep within a few days.
I found the eLuxury mattress to be an all-around great value. The company offers a quality foam mattress that covers all bases at a reasonable price.  It's not the cheapest 10″ gel foam mattress out there but certainly nowhere near the most expensive.
As for comfort and performance, this mattress did not disappoint. It sleeps cool and comfortable while providing excellent support and superior motion isolation.
It's made from CertiPUR-US foams that are made in the US. This mattress does not contain toxic chemicals and does not smell.
The 120-night trial allows you to ensure that the mattress is a good fit for you.
The gel foam mattress from eLuxuary is one that should be considered if you are interested in an all-foam mattress.
Share This Post: