I receive free products and participate in affiliate programs where I may receive a commission, at no cost to you, if you visit a merchant's site and make a purchase using links from within this page. 
Tomorrow Sleep Memory Foam Mattress Review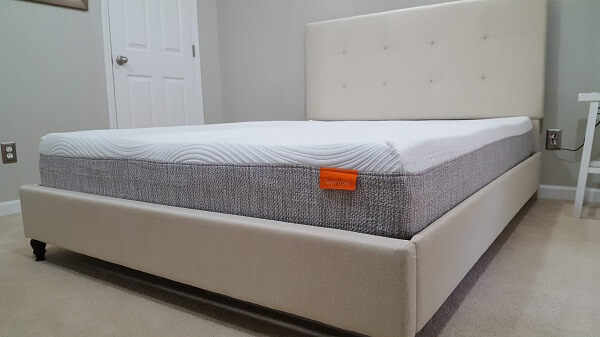 Following the release of their Hybrid mattress, Tomorrow Sleep now offers a slightly less expensive Premium Memory Foam mattress that's constructed from three distinct layers of foam.
Body heat retention is a common complaint among foam mattress users and Tomorrow believes that they have come up with the solution.
This mattress features a layer of breathable graphite-infused open-cell foam, which the company claims will help to keep your body cool and comfortable throughout the night.
Does the Tomorrow Memory Foam Mattress live up to all of its promises? Is it really worth it? Should I buy it?
These are a few questions that I hope to help you answer as I spend the next 12 nights putting the Tomorrow Memory Foam mattress to the test.
The Company

Launched in June 2017, Tomorrow Sleep is a relatively new entrant into the direct-to-consumer "mattress-in-a-box" industry.
In addition to mattresses, the company also sells pillows, comforters, sheets, mattress protectors, bed platforms, curtains, and even a sleep tracker.
While Tomorrow Sleep may be one of the latest to enter the bed-in-a-box market, the company is backed by the knowledge, research, and engineering of one of the oldest and most popular mattress companies in the US.
Although you may not be familiar with the Tomorrow brand, it's likely that you have heard of their parent company Serta Simmons Bedding LLC (SSB), who operates two wholly owned subsidiaries – National Bedding Company LLC and Simmons Bedding Company.
National Bedding Company sells mattresses under the "Serta" brand and includes models such as The Perfect Sleeper, Sertapedic, iSeries, and iComfort, while Simmons Bedding Company produces brands such as the BeautySleep and Beautyrest.
Considering that SSB currently holds 40% of the mattress market in the US, there's a pretty good chance that if you were to check the tag on your current mattress, it would display one of these two brands.
SSB employs 40+ sleep scientists who spend their days working within 40,000 sq. ft. of laboratory space within the US. The company has a combined 220 years of experience and currently operates 39 manufacturing plants in the United States.
Rather than becoming a subsidiary of SSB, Tomorrow Sleep is independently operated and managed, yet is backed by the knowledge and experience of a company that has been around for decades.
Bryan Murphy is the founder and president of Tomorrow. Prior to creating Tomorrow Sleep he sold his company, WHI Solutions, to eBay and spent the next three years as an eBay executive.
Why is this information about Tomorrow and SSB important?
I'm going to let you in on a little secret.
Have you ever noticed how many bed-in-a-box companies are out there? The answer is well over 100. What's the reason behind this?
With low barriers to entry, the industry has captured the attention of many entrepreneurs who are interested in cashing in on a booming industry.
The vast majority of direct-to-consumer mattress companies simply private label their mattresses, meaning a factory (typically located somewhere in China) manufactures a standard mattress by gluing together 2-4 layers of foam and then slipping on a cover.
They then "white label" it by attaching a tag displaying the name of XYZ company. After rolling out one batch, they create another batch for company ZYX using the exact same mattress, only adding a different tag and the process continues on.
This means that several mattresses-in-a-box:
Are actually the exact same product with a different name.
Are not created using innovative design. There are no "sleep scientists" involved in the design process.
Are often made with low-quality inexpensive materials in order to keep the manufacturing costs low.
May use foams that are not CertiPUR-US certified.
With Tomorrow Sleep, you are getting a uniquely designed mattress that's backed by science, made from quality certiPUR materials, and manufactured in the United States in Charlotte, NC.
Mattress Construction
When it comes to foam mattresses, the materials that are used and how the mattress is assembled are two distinguishing factors that separate the good and average from the bad.
The Tomorrow Memory Foam Mattress is latex-free and is constructed from three layers of viscoelastic polyurethane foam, each serving a unique purpose. The total thickness, after unpacking and decompressed is 10″.
Here's a breakdown of the three layers that you will find inside.
7″ of 2 PCF Durable High-Density Base Foam
2″ of 2.5 PCF Pressure Relieving Gel Swirl Memory Foam
1″ of 2.8 PCF Cooling Open-Cell Memory Foam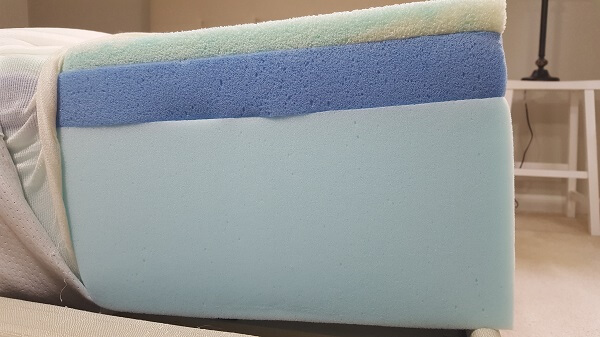 The density of foam within a mattress is expressed in PCF or pounds per cubic feet. Simply put, if you were to take one cubic foot of a particular foam, this is how much it would weigh. The higher the PCF, the greater the density which makes it a more durable product.
While a correlation often exists between density and support, a higher density foam doesn't always indicate a more supportive product.
Indentation Load Deflection (ILD) is a technique used to measure the softness or hardness of a foam. I was unable to locate any information on ILD rating for the Tomorrow Memory Foam Mattress, but I will do my best to describe the firmness in a later section during a test that I performed.
Looking at the PCF rating of the three layers, the foams used in this mattress fall within the medium to high-density range.
The 7″ bottom layer is fairly dense and provides a good base that will not allow your body to sink in too far, leaving you stuck inside of the mattress.
The 2″ middle layer is made from a dense open-cell memory foam which makes it breathable and enables the dissipation of body heat.
Topping off the mattress is a 1″ piece of open-cell memory foam that's infused with graphite. According to Tomorrow Sleep, the Graphite is used to remove excessive heat away from the mattress.
Graphite is often used to remove heat in applications where petroleum-based products typically fail. Infusing mattress foam with graphite is a unique solution to a common issue with most memory foam mattresses that manufacturers face.
Tomorrow Hybrid Mattress vs Memory Foam Mattress
When introduced in 2017, Tomorrow sold only one mattress, their hybrid which could be purchased in either "medium firm" or "medium soft".
In early 2018 the company released their Memory Foam Mattress. While both mattresses are 10″ in thickness, the similarities end there. Here are a few key differences between the two mattresses:
As the name implies, the Hybrid mattress contains pocketed high-carbon steel coils that are found in traditional mattresses as well as 3-4 layers of memory foam, while the Memory Foam series contains only foam.
With the Hybrid, there are two "feels" to choose from. The Memory Foam model offers only one.
The Hybrid is going to have a different feel in comparison to the Memory Foam. Because the Hybrid contains pocketed coils, you will notice a difference in the "bounce" of the mattress. Keep in mind that since the coils are independent of each other, they will transfer very little motion.
The Hybrid starts at $545 while the Memory Foam mattress starts at $445, so there's a little bit of savings with the foam mattress.
Warranty
Like the majority of mattress companies out there, Tomorrow offers a 10-year limited warranty with their Memory Foam Mattress.
Does this mean that the mattress will only last 10 years?
Actually, according to Tomorrow, they have tested their mattresses in a lab and found that they can last up to 20 years! 
While the mattress can physically handle 20 or more years of sleeping, due to health reasons it's advised that you replace your mattress every 10 years.  Over the years, dead skin, sweat, and dust mites can add pounds of weight to your mattress, creating an unhealthy environment to sleep in.
The 10-year warranty is limited and does not cover issues such as:
Tears, cuts, or burns
Normal body impressions up to 1.5″
Mattresses used without proper support
Costs to transport, inspect, or remove the mattress
Overall, the limited warranty that's offered by Tomorrow is fairly standard in the industry.
Price & Financing Options
Price
The price of a Tomorrow Memory Foam Mattress varies according to size, with a Twin size costing the least and a California King costing the most.
Tomorrow's pricing strategy involves listing each mattress at an original price and then by default, reducing it by $50.00.
Use Promo Code SMG100 to receive $100 off the original price. This promo code only works for purchases totaling $495.00 or more.
The prices that you see in the chart below reflect the price of each mattress after the default reduction. Prices shown in bold are what you can expect to pay after using the mentioned promo code.
Size
Price
Twin
$445.00
Full
$645.00
$545.00
Queen
$795.00
$695.00
King
$915.00
$815.00
Cali. King
$945.00
$845.00
0% APR Financing
If dropping several hundred dollars on a mattress is not in your budget, you can take advantage of some financing options that are available.
Tomorrow Sleep has teamed up with Klarna, an online financing company that prides itself on transparency with no hidden fees.
During the checkout process, you have to option to choose Klarna for payment. You will be required to enter some basic information in order to set up an account. Klarna uses this information to perform a "soft" credit check which will not affect your credit score.
The credit check is nearly instant. If your credit is good, they will likely offer 0% APR financing for 18 months.
Perhaps your credit is not squeaky clean. In this case, you may be eligible for a 10%-30% APR loan. The percentage that you pay will depend upon your creditworthiness. In some cases, a down payment may be required in order to obtain financing.
There are three options for making monthly payments including ACH Transfer, check, or debit card.
Trial Period
Not having the ability to physically handle a product prior to making a purchasing decision is a challenge that every online retailer must face. In regards to online mattress sales, this statement is especially true as most shoppers prefer to lay on a mattress for a few minutes to get a "feel" for it before making a final decision.
How does a direct-to-consumer mattress company such as Tomorrow Sleep overcome this hurdle? By offering a trial period where the consumer can try a mattress out in their home for a specified number of nights. In the event that they are not satisfied, the mattress can be returned for a refund.
In recent years, offering a trial period has become the industry standard in online mattress sales. Nearly every mattress company is offering a free trial period of around 100-120 nights.
This is an area where Tomorrow excels because their trial period lasts for 365 nights! 
In the event that you are not satisfied and would like to return your bed, the company will take care of this, so you don't have to worry about stuffing it back in the original box (which, by the way, is an impossible task). They offer return shipping at no cost, so there's no loss if you decide to return your mattress.
Their return policy does however ask you to "break in" the mattress for at least 30 nights prior to requesting a refund.
Shipping & Delivery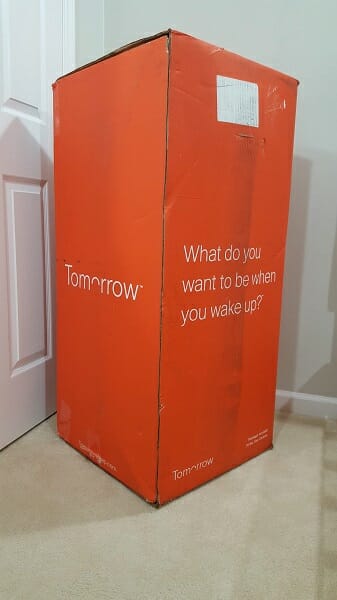 Sending a mattress in the mail may seem cost prohibitive because it's a large and heavy item.
Like other mattress-in-a-box retailers, Tomorrow Sleep compresses and roll their mattresses in order to fit them into a manageable sized box. While the weight remains the same, the amount of space that the mattress occupies is greatly reduced which also decreases the shipping cost. Because of this, they are able to offer free shipping to your doorstep.
The shipping box measures 20″ X 20″ X 42″ unless it's a Cali. king which ships in a box with dimensions that are one inch longer all around.
Tomorrow ships using UPS ground services, which will take 2-3 business days to arrive. Mattresses are shipped from their warehouse in either Kentucky or California.
Compressing and shipping a mattress does not affect its integrity or performance.
Keep in mind that once the mattress arrives, you will have to carry it to your bedroom and unpack it. Since the box can weigh well over 70lbs, it's best to perform this task with the help of a partner.
If you don't have the ability carry and set up your mattress, Tomorrow offers white glove delivery in most areas. For an additional $75.00, they will deliver and set up the mattress in a room of your choice and will even take away the packaging that it came in.
They also offer an old mattress removal service for an additional $49.00.
Unpacking and Setup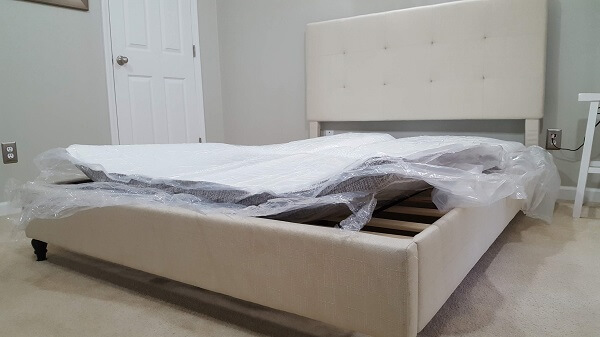 Once your bed arrives, the setup process is fairly straightforward and should take less than 20 minutes.
If your existing platform is still in good shape, you can reuse it. The Tomorrow mattress can lay on top of a traditional box spring, wood slat, or even directly on the floor. I reused my old wood slat platform with my mattress.
The box has a pair of handles cut into the top and bottom. With the help of my wife, we carried the box into our bedroom and removed the mattress from the box.
A set of instructions along with an opening tool (which is simply a letter opener) came inside of the box.
Following the instructions, I cut through the first layer of plastic using the provided tool and then laid the mattress out on the platform, face side up, before carefully cutting through and removing the second layer of plastic. The sight and sound of the expanding mattress provided a moment of entertainment as we watched the mattress take shape.
In less than 10 minutes, it slowly expanded to its original shape and size.  The manufacturer suggests that it may take up to 24 hours to fully expand. However, you should be able to sleep on it after only a few minutes.
The Smell Test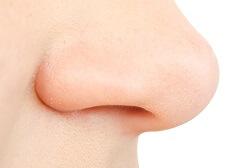 If you have ever installed new carpet in your home or have purchased a new vehicle, you are probably familiar with the "new car smell".
All memory foam mattresses, specifically ones that have been compressed, sealed, and packaged shortly after being manufactured, will emit some sort of "new" smell when first opened.
This smell actually comes from a reaction called off-gassing in which chemicals used during the manufacturing process break down and disperse into the air. More specifically, these chemicals are referred to as Volatile Organic Compounds (VOCs).
There is no way to escape VOCs, as they are present in nearly everything manufactured including all furniture. There's no conclusive evidence indicating that VOC emissions, at low levels, are dangerous to your health.
The foams used in Tomorrow's mattresses are CertiPUR-US certified. The CertiPUR certification program was created in 2008 in response to concerns over toxic foams being imported into the United States.
CertiPUR-US is an independently operated not-for-profit organization that tests foams to ensure they are made without ozone depleters, PBDEs, TDCPP, TCEP, mercury, lead, other heavy metals, formaldehyde, regulated phthalates, and have Low VOC emissions of less than 0.5 PPM. Tomorrow Sleep is listed in the CertiPure directory as a participating company.
After opening my Tomorrow mattress, I did notice a faint "new foam" smell, which is difficult to describe.
I wouldn't necessarily label it as an offensive odor and it didn't irritate my nose or cause a headache. It simply smelled like, well, a new foam mattress.
The new mattress smell lingered around for the next 2 days, gradually diminishing with each passing day. By the third day, the smell had disappeared.
Neither myself nor my wife experienced any issues with the smell of the mattress at any point during the testing period.
Knowing that all memory foam mattresses are going to create some off-gassing and that the Tomorrow mattress is CertiPur certified, I was the least bit concerned about this smell.
Heat Dissipation Test

Falling asleep and staying asleep on a hot mattress is nearly impossible. For this reason, I always perform a heat test which shows how quickly body heat dissipates from a mattress.
As mentioned, the top layer of Tomorrow is made from a graphite infused open-cell memory foam, which is supposed to dissipate heat. The middle layer contains a Pressure Relieving Gel Swirl memory foam which also assists with body heat removal.
I'll perform a heat dissipation test using a heat source, non-contact infrared thermometer, and a stopwatch. The heat source in this case is a 3 lb. rice bag that I warmed in the microwave.
Here's a rundown of the process:
Heat the rice bag in the microwave for 2 minutes, which will bring its temperature up to around 120°
Simulate body heat by laying the rice bag on top of the mattress for 10 minutes to allow heat to transfer from the bag to mattress.
Remove the bag and start the stopwatch. Using an infrared thermometer, record the temperature and time as the mattress cools.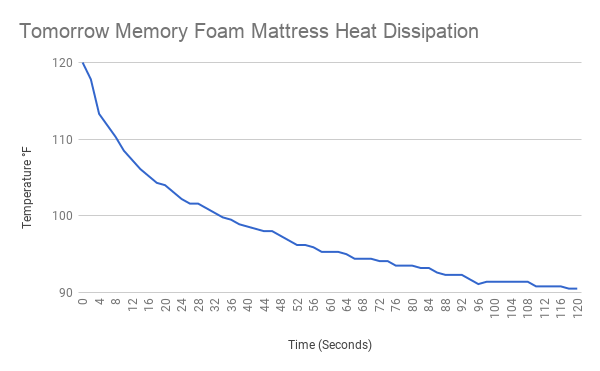 | Time (Seconds) | Temperature °F |
| --- | --- |
| 0 | 120° |
| 10 | 108.5° |
| 20 | 104° |
| 30 | 101° |
| 40 | 98.6° |
| 50 | 96.8° |
| 60 | 95.3° |
| 70 | 94.4° |
| 80 | 93.5° |
| 90 | 92.3° |
| 100 | 91.4° |
| 110 | 90.8° |
| 120 | 90.5° |
As you can see from the above chart, the mattress experienced rapid heat loss during the first 30 seconds after the heat source was removed. During this time period, the temperature decreased by 19°.
Between 30 and 60 seconds, the temperature decreased by an additional 5.7°.
Between 60 and 90 seconds, the temperature decreased by an additional 3°.
Between 90 and 120 seconds, the temperature decreased by an additional 1.8°.
The greatest amount of heat loss occurred during the first 30 seconds. The amount of heat loss tapered off with each passing 30-second interval.
During the 120 second test, the mattress lost a total of 29.5°.
Overall the heat dissipation is above average for an all-foam mattress. While sleeping on this mattress my wife and I did not experience any issues overheating at any point during the night.
Firmness Test

When you lie down on a bed, the first thing that you may notice is the firmness of a mattress. Firmness refers to how soft or hard a mattress feels. Keep in mind, this should not be mistaken for support which refers to the degree to which the mattress keeps your body aligned.
Indentation Load Deflection (ILD) is used to measure the firmness of foam. In a laboratory setting, the ILD rating is determined by compressing a 15″ X 15″ X 4″ piece of foam using a 50 square inch (8″ in diameter) disk. Weight is added until the foam beneath the disk is compressed by 25% or by 1″. The more weight that it takes to compress the foam, the "firmer" the foam.
Using a modified version of this test, I measured the amount of mattress sinkage using a 2-gallon bucket with an 8.25″ diameter bottom. The bucket has been filled with concrete and weighs a total of 42 lbs. A ruler has been attached to the side of the bucket.
Instead of measuring how many pounds it takes to compress the mattress 1″, I measured how far the mattress sinks when the 42 lb bucket is added.
This measurement is relative and will come in handy when comparing the firmness of two or more mattresses reviewed on this site, using the same weight.
As you can see in the video above, the Tomorrow mattress experienced 2.5″ of sinkage when weight was added.
I would describe this mattress as being medium-firm. Laying down, I didn't feel as though I was being "swallowed" by the mattress. It felt as if I were laying on top of the mattress and not inside it.
Body Support
Choosing a mattress that provides proper body support is a factor that's easily overlooked.
The support layer is located underneath the top comfort layer. In the case of the Tomorrow mattress, support is provided by a 7″ layer of high-density foam just beneath the first two layers of memory foam.
A mattress can be firm and yet provide very little support. The same can be true for a softer mattress.
Areas with a greater concentration of weight, such as the back and buttocks need to be supported in order to maintain body alignment. If not properly supported, your body may bend at the middle and you may experience discomfort the next day.
Weight, body type, and sleeping position will all affect how well a mattress supports one's body. In other words, a 120lb petite side sleeper may find that a particular mattress provides proper support while a larger 275lb side sleeper may find that the same mattress doesn't provide enough support.
At 6'1 and 215 lbs, I found that the Tomorrow Memory Foam Mattress provided adequate support for side sleeping. I experienced no aches or pains in the morning while sleeping on this mattress.
Remember, your results may vary. For instance, a back sleeper who's heavier may find that the mattress does not provide enough support.
Recovery Time

Recovery time is another factor that should be taken into account if you are interested in a memory foam mattress.
Depending on the composition, some memory foams will respond almost immediately while others will take several seconds to respond. Higher density foams generally have a slower recovery time.
Some may find that a mattress containing a foam that's slow to respond will leave them feeling "stuck" while others enjoy the hugging nature of a slow responding foam mattress.
As you can see in the video demonstration above, the Tomorrow mattress has a rather fast recovery time.
While trying out this mattress, I found it rather easy to change positions without feeling stuck.
Motion Isolation Test

Motion isolation refers to the mattress's ability to absorb movement. Motion isolation is sometimes referred to as motion transfer.
If you sleep with a bed partner, motion isolation is something that you may want to pay close attention to. This is especially true if you or your partner sleep lightly and are disturbed by tossing, turning, or multiple trips to the restroom at night.
One of the benefits of choosing an all foam mattress, such as the Tomorrow, is the excellent motion isolation that it provides. Since the mattress does not contain metal coils, the transfer of motion will be very minimal.
I used two methods to test the amount of motion transferred by this mattress. I filled a glass halfway with water and placed on the bed alongside a smartphone running an app which measured vibration.
In order to simulate motion made by a partner tossing around or getting out of the bed, a 17.6 lb kettle ball was positioned on the opposite side of the bed and was dropped from a distance of 12″. This test was repeated three times. As you can see, the meter showed a mean reading of 2.2 MMI and a Max of 5.3 MMI.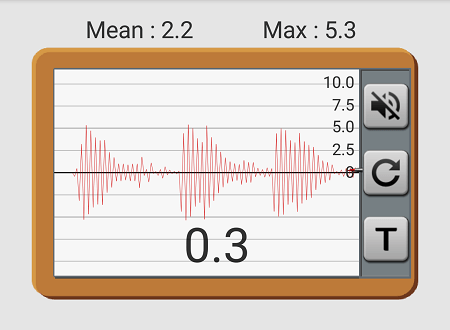 My wife and I normally sleep on a mattress with pocketed coils, which works fairly well to isolate motion.
However, when sleeping on the Tomorrow mattress, we both noticed a marked reduction in motion transfer.
Edge Support
Edge support simply refers to how well the edge of a mattress holds up when weight is placed on it. While laying near the edge, do you feel as though you are going to roll off? While sitting on the edge of the bed, how far does the mattress compress?
Mattresses with innerspring or pocket coils are made from steel and usually provide the best edge support. Foam mattresses often receive a bad rap for not providing adequate edge support. This can be true, especially if the manufacturer uses low-quality foam.
After allowing the mattress to expand, the first thing that I did was lay on it and roll over towards the edge.
If you feel as though you are about to roll off the edge, this may be an indicator of a poor quality mattress. In the case of this mattress, I felt completely secure while laying near the edge. 
I then sat up on the edge, concentrating all of my weight in one area. The first 3″ or so of memory foam compressed a bit, but the 7″ layer of high-density foam kept my bottom well above the platform.
Tomorrow seemed to have hit the mark when choosing a base layer that's dense and thick enough to keep you on the bed, where you belong while sleeping.
Final Thoughts
After spending 12 nights sleeping on the Tomorrow mattress, my wife and I both agree that this mattress is a keeper.
The Tomorrow Mattress offers the perfect balance of comfort and just the right amount of support.
What I found most impressive about this mattress was its ability to remain cool throughout the night. Memory foam mattresses have a reputation for trapping heat. The graphite infused open cell foam seemed to really help with this problem.
This mattress was designed by a company that employs sleep scientists and uses safe foam that's Certipur Certified.
The 365-night trial is one of the best in the industry, which can be reassuring if you have never slept on a memory foam mattress but would like to try one without the risk.
Overall, this mattress is a great choice and one that is worthy of being placed on your short list if you are considering a foam mattress.
Share This Post: