☆☆☆☆☆4.5 Star Rating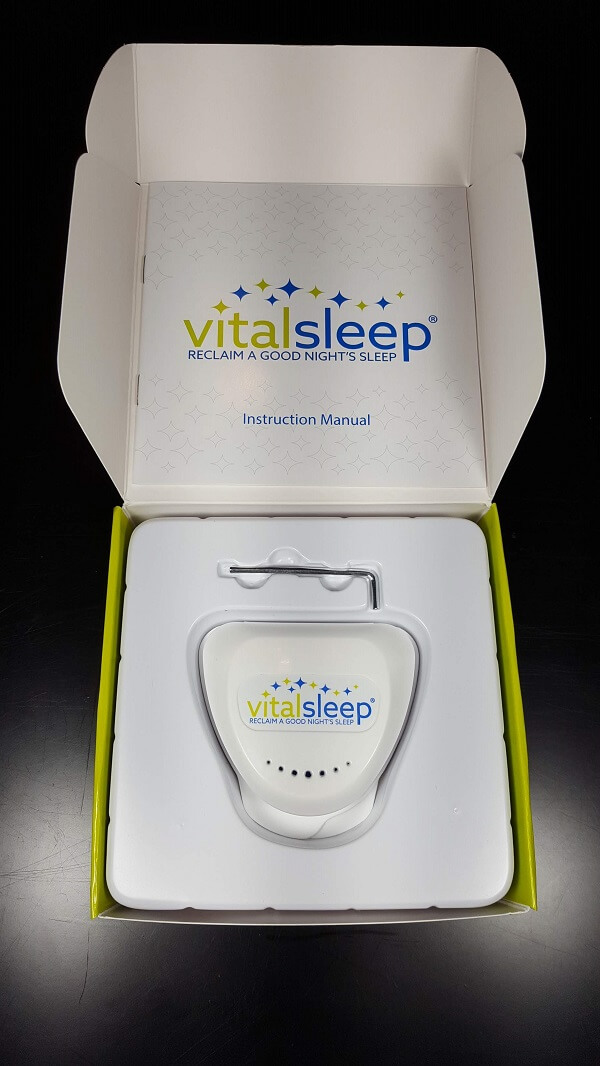 About Vitalsleep
The sleep aid industry is growing by leaps and bounds each year as an increasing number of adults are being overworked and getting less than the recommended 8 hours of sleep each night.
There are millions of others who receive the recommended amount of sleep each night and still wake up feeling groggy and tired.
While there may be several reasons why so many are waking up tired, you may be surprised to hear that snoring is a common cause of poor sleep quality.
Numerous products have popped up on the market in recent years, promising the best night sleep you ever had. The VitalSleep snoring mouthpiece happens to be one of these products.
VitalSleep was cleared by the FDA (510(k) Number K092942) in January 2010 and is classified as a class II anti-snoring device. It is a mandibular advancement device that has a lower tray adjustment which can be tweaked using the provided hex tool. It's made in the USA and is guaranteed to be latex and BPA free.
It features the common "boil and bite" technology which provides more of a custom fit, contouring the unique ridges of one's teeth. Also, it enables breathing through the mouth due to the air hole located at the front of the device.
Like all other MAD's, this product works by holding your jaw in the advanced position, pulling forward the tongue, airway and various muscles. As a result, the airway is cleared from obstructions and the sound of snoring ceases.
The Vitalsleep mouthpiece was co-developed by The Snore Reliever Company LLC. which is based out of New York, NY. The company was registered in December 2010 but the device did not gain much momentum until just over a year later in January 2012.
VitalSleep was created with the help of a doctor who has over 25 years of experience in physical medicine and rehabilitation.
The inventor came up with the idea to create a low-cost anti-snore device after spending nearly $3,000 on a dentist prescribed oral appliance that broke after a few short days of use.
New And Improved Design
Vitalsleep's original design was used between 2010 and 2018. In 2018, a new and improved version was released which drastically improved the fit of the mouthpiece. The new design is also more durable which means that it will last longer.
Unlike its opaque predecessor, the new Vitalsleep is solid white with a blue accent color and has a lower profile.
The new VitalSleep sports a rigid frame with a soft plastic lining that can be heated to create a deep custom impression of your teeth. This was not possible with the original version.
Price and Shipping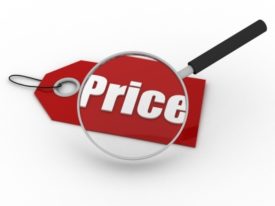 VitalSleep costs $69.95 which includes Free US as well as international shipping.
You can purchase a second mouthpiece for the discounted price of $39.00 with free shipping as well. Keep one as a backup or give it to your snoring partner or to someone else as a gift.
Transit time is typically between five to ten days, although it often arrives sooner.
All orders ship the same business day if placed before 3 PM eastern time.
You will receive a shipping confirmation with a tracking number once your order ships.
Something else to keep in mind is that Vitalsleep offers free replacements for one full year.
Available In Two Sizes
One thing unique about the VitalSleep is that it's available in both regular and the small sizes. The small is a scaled-down version of the regular and is 90% it's size.
Most snoring mouthpiece manufacturers only offer one size, so having a mouthpiece for those with a smaller mouth is a nice feature since some mouths will be smaller than others.
My Experience Using the VitalSleep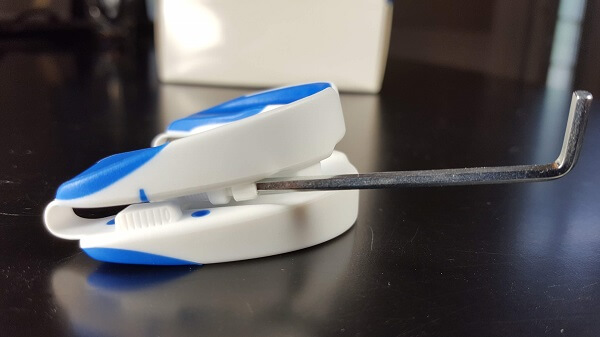 I received my VitalSleep in the mail and read over the instructions. Creating a custom impression only took a few minutes and afterward I used the provided hex tool to adjust the lower tray. Here's are the steps that I followed during the initial fitting process.
Ensure that the upper and lower trays are both adjusted directly on top of each other. If not, use the adjustment tool to move the lower tray in or out. There is an indicator mark on each side of the device. Makes sure that the indicator mark is located all the way forward.
Bring a pot of water to a slow boil and submerge the mouthpiece using a pair of tongs. Allow the mouthpiece to sit in the boiling water for 90 seconds. This will make the plastic lining pliable.
Remove from the water and dip into a mug of cold water for 3 seconds.
Locate the triangle stamped on the inside of the mouthguard. This indicated the upper tray. Place the device in your mouth with the correct side up and bite down gently. Hold this position for 30 seconds.
Remove from your mouth and place back into the cold water for 30 seconds. to cool it.
Check to ensure a good fit. Repeat if necessary to achieve a deep impression.
The entire process was really easy and only took a few minutes. I was able to achieve a great fit on my first attempt.
The 7-Night Trial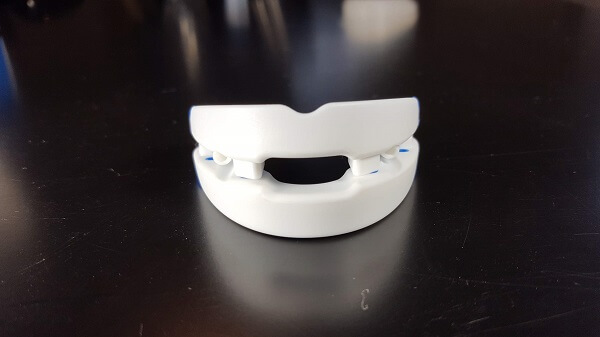 Having owned both the original Vitalsleep as well as the improved version, I have to admit that the newer design fits much better and is more comfortable to wear than its predecessor. The newer one, however, offers a much closer, tighter fit.
After fitting, I put the mouthpiece in and I was off to bed.
The following morning I asked my wife if she noticed if I had snored any throughout the night. She noted that although it didn't completely eliminate my snoring, it greatly reduced it.
Using the provided tool, I tightened down each side evenly 2.5 revolutions on each side in order to advance the lower tray. The theory is that doing so will hold the jaw forward which helps to clear the airway.
The following night, I had my wife observe my snoring habits once again. This time my snoring had completely stopped.
I continued to wear the Vitalsleep for the next five night to ensure that I did not experience any issues with the mouthpiece, which I didn't.
The Vitalsleep worked and it worked well. It fits nicely and functioned as intended.
What Are The Other Reviewers Saying?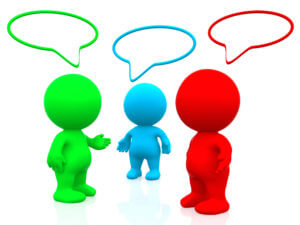 As with most MAD's, some users have reported jaw soreness during the first few nights of use as well as occasional drooling.
Aside from these two issues, most reviewers agree that they experienced a complete night of uninterrupted sleep, more energy, and absolutely no snoring the entire night.
I was unable to find any complaints of long-term discomfort anywhere online.  Those who have tried the improved version of the Vitalsleep mostly agree that it offers a close, tight fit.
I found a few who claimed that the unit can be difficult to clean due to all the nooks and crannies in between the two trays.  On average, most reviews are coming from people who have purchased and used the product for several months.
Clinical Studies And VitalSleep
While the Vitalsleep has not been clinically tested, similar devices have and the results indicate that such devices are effective at treating moderate to severe cases of snoring.
There are numerous documented studies such as this one conducted by the Department of Thoracic Medicine at Middlesex Hospital in the UK.
The study concluded that 80 out of 94 (85%) of patients who completed the study had shown improvements in snoring. While the study did not use the Vitalsleep, the oral appliance that they used functions exactly the same.
Keep in mind that the most anti-snoring mouthpieces that are available on the market today were not tested using a clinical study. These types of studies can be very expensive and time-consuming. Because of this, manufacturers often rely on studies that were previously conducted using similar mouthpieces.
My Overall Thoughts
Overall, I was really impressed with the VitalSleep. It is without a doubt one of the best-engineered mouthpieces out there. It allows you to breathe freely, is comfortable and adjustable, and most importantly it works!
The VitalSleep packs a hard punch, offering features that are superior to most over-the-counter mouthguards in its class.
Having the ability to be customized and adjusted the mouthpiece allows for a more comfortable fit.
It also features breathing holes which are needed for those with sinus issues because it gives them the ability to breathe through their mouth while sleeping.
It's priced competitively and is one of the least expensive adjustable MAD's available on the market today.
Vitalsleep offers a 60-day money back guarantee free replacements for one full year, for any reason.
The VitalSleep hit the nail on the head when it comes to design, price, comfort, and functionality and because of this, I can give it my recommendation.
Which mouthpiece should I buy?
The anti-snoring mouthpiece is one of the most highly effective stop snoring solutions available. With over 100 different products to choose from, deciding which one to buy can be challenging.
As a snorer and product reviewer, I have tried many of these devices and created a list of recommended devices that will help to make this decision much easier.
Share This Post: